K16 - Compact Piston Seal

| KASTAŞ NO | D (H11) | d (h11) | B (-0/+0,2) | ds (h8) | d1 (±0,1) | d2 (-0,1/+0) | A (-0/+0,1) | s | R1 | R2 | n |
| --- | --- | --- | --- | --- | --- | --- | --- | --- | --- | --- | --- |
| K16 025-017 | 25 | 17 | 13,5 | 21 | 24,4 | 14 | 2,1 | 3,2 | 0,4 | 0,2 | 4 |
| K16 030-021 | 30 | 21 | 13,5 | 27 | 29,4 | 21 | 2,2 | 2,1 | 0,4 | 0,2 | 4 |
| K16 030-022 | 30 | 22 | 13,5 | 26 | 29,4 | 19 | 2,1 | 3,2 | 0,4 | 0,2 | 4 |
| K16 032-024 | 32 | 24 | 15,5 | 28 | 31,4 | 21 | 3,1 | 3,2 | 0,4 | 0,2 | 4 |
| K16 035-027 | 35 | 27 | 15,5 | 31 | 34,4 | 24 | 3,1 | 3,2 | 0,4 | 0,2 | 4 |
| K16 040-032 | 40 | 32 | 15,5 | 36 | 39,4 | 29 | 3,1 | 3,2 | 0,4 | 0,2 | 4 |
| K16 045-037 | 45 | 37 | 15,5 | 41 | 44,4 | 34 | 3,1 | 3,2 | 0,4 | 0,2 | 4 |
| K16 050-038 | 50 | 38 | 20,5 | 46 | 49,4 | - | - | 4,2 | 0,4 | 0,2 | 4 |
| K16 060-048 | 60 | 48 | 20,5 | 56 | 59,4 | - | - | 4,2 | 0,4 | 0,2 | 4 |
| K16 063-051 | 63 | 51 | 20,5 | 59 | 62,4 | - | - | 4,2 | 0,4 | 0,2 | 4 |
| K16 065-053 | 65 | 53 | 20,5 | 61 | 64,4 | 52,7 | 2,3 | 4,85 | 0,4 | 0,2 | 4 |
| K16 070-058 | 70 | 58 | 20,5 | 66 | 69,4 | - | - | 4,2 | 0,4 | 0,2 | 4 |
| K16 075-063 | 75 | 63 | 20,5 | 71 | 74,4 | - | - | 4,2 | 0,4 | 0,2 | 4 |
| K16 080-065 | 80 | 65 | 20 | 76 | 79,4 | - | - | 5 | 0,4 | 0,2 | 5 |
| K16 080-066 | 80 | 66 | 22,5 | 76 | 79,4 | - | - | 5,2 | 0,4 | 0,2 | 4,5 |
| K16 085-071 | 85 | 71 | 22,5 | 81 | 84,4 | - | - | 5,2 | 0,4 | 0,2 | 4,5 |
| K16 090-076 | 90 | 76 | 22,5 | 86 | 89,4 | - | - | 5,2 | 0,4 | 0,2 | 4,5 |
| K16 100-086 | 100 | 86 | 22,5 | 96 | 99,4 | - | - | 5,2 | 0,4 | 0,2 | 4,5 |
| K16 110-096 | 110 | 96 | 22,5 | 106 | 109,4 | - | - | 5,2 | 0,4 | 0,2 | 4,5 |
| K16 115-101 | 115 | 101 | 22,5 | 111 | 114,4 | - | - | 5,2 | 0,4 | 0,2 | 4,5 |
| K16 120-106 | 120 | 106 | 22,5 | 116 | 119,4 | - | - | 5,2 | 0,4 | 0,2 | 4,5 |
| K16 125-103 | 125 | 103 | 26,5 | 121 | 124,4 | - | - | 5,2 | 0,4 | 0,2 | 6 |
| K16 125-108 | 125 | 108 | 26,5 | 121 | 124,4 | - | - | 7,2 | 0,4 | 0,2 | 5 |
| K16 140-123 | 140 | 123 | 26,5 | 136 | 139,4 | - | - | 7,2 | 0,4 | 0,2 | 5 |
| K16 150-133 | 150 | 133 | 26,5 | 146 | 149,4 | - | - | 7,2 | 0,4 | 0,2 | 5 |
| K16 160-140 | 160 | 140 | 25 | 155 | 159,4 | - | - | 6,3 | 0,4 | 0,2 | 6 |
| K16 160-143 | 160 | 143 | 26,5 | 156 | 159,4 | - | - | 7,2 | 0,4 | 0,2 | 5 |
| K16 170-153 | 170 | 153 | 26,5 | 166 | 169,4 | - | - | 7,2 | 0,4 | 0,2 | 5,00 |
| K16 180-163 | 180 | 163 | 26,5 | 176 | 179,4 | - | - | 7,2 | 0,4 | 0,2 | 5 |
| K16 200-180 | 200 | 180 | 31,5 | 196 | 199,4 | - | - | 9,2 | 0,4 | 0,2 | 6 |
| K16 220-200 | 220 | 200 | 31,5 | 216 | 219,4 | - | - | 9,2 | 0,4 | 0,2 | 6 |
| K16 250-225 | 250 | 225 | 31,5 | 246 | 249,4 | - | - | 6,6 | 0,4 | 0,2 | 6 |
| K16 250-230 | 250 | 230 | 31,5 | 246 | 249,4 | - | - | 9,2 | 0,4 | 0,2 | 6 |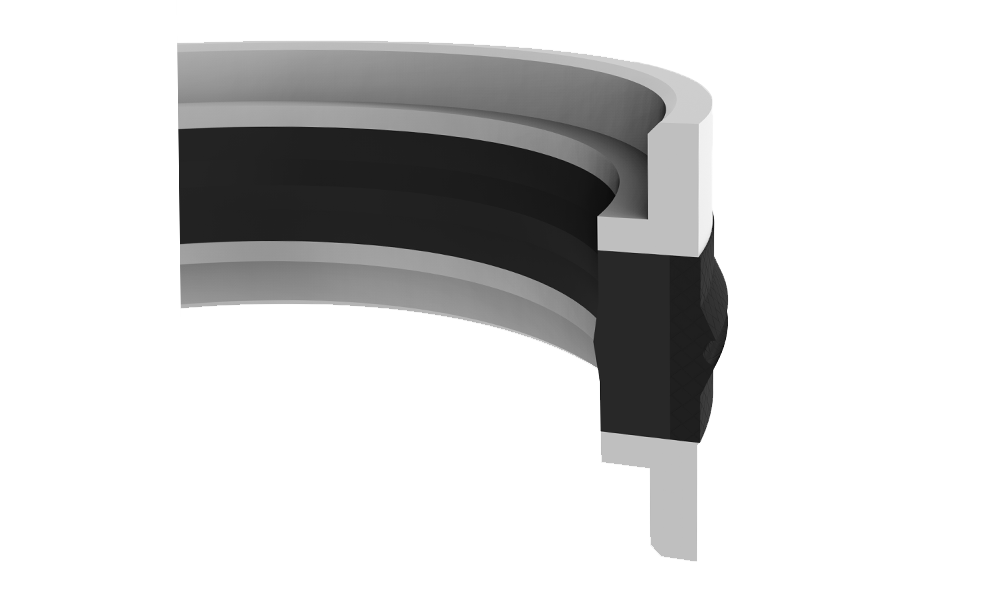 K16 is a three piece double acting compact seal which consistsof one fabric reinforced elastomeric sealing element andtwo thermoplastic guide back-up rings.
PRODUCT ADVANTAGES
• Low friction , free of stick-slip
• Improved abrasion resistance
• Good dynamic and static sealing
• Long service life
APPLICATION
Mining equipment , iron and steel industry , marine hydraulics andearth moving equipment.
NBR
80 SHORE A
NB8001
COTTON FABRIC NBR
FB8001
POM
PM9901
OPERATING CONDITIONS
MEDIA
Mineral oils(DIN 51524)
HFA and HFB
HFC
TEMPERATURE
-30°C +105°C
+5°C +60°C
-30°C +60°C
PRESSURE
≤400 Bar
≤400 Bar
≤400 Bar
SPEED
≤0.5 m/sn
≤0.5 m/sn
≤0.5 m/sn

Note: The above data are maximum values and cannot be used at the same time.
SURFACE ROUGHNESS
Ra
Rmax
Sliding Surface ØD
≤0.4 μm
≤3.2 μm
Groove Base Ød
≤1.6 μm
≤6.3 μm
Groove Flanks B
≤3.2 μm
≤16 μm
Note: It is recommended to have 50% to 90% of the working surface material contact area value

INSTALLATION
K16 profile has been designed for its installation in closed or open grooves taking the indicated catalogue information into consideration. We recommend having open groove design for dimensions that are smaller than Ø 50 mm. It is very important that the assembly tools must be of soft material and have no sharp edges. Before installation the sealing element must be oiled with system oil.

NOTES
For special applications that require high temperatures , our seal set is being manufactured with reinforced cotton fabric with FKM and special mixture of PTFE guide back-up rings.