K18 - Compact Piston Seal

| KASTAŞ NO | D(H8) | d(h9) | B(-0/+0,2) | ds(h8) | d1(±0,1) | s(-0/+0,2) | n |
| --- | --- | --- | --- | --- | --- | --- | --- |
| K18 020-011 | 20 | 11 | 13,5 | 17 | 19 | 2,1 | 4 |
| K18 022-013 | 22 | 13 | 13,5 | 19 | 21 | 2,1 | 4 |
| K18 025-015 | 25 | 15 | 16,4 | 21,45 | 23,5 | 6,35 | 4 |
| K18 025-015/1 | 25 | 15 | 12 | 21 | 23 | 4 | 4 |
| K18 025-015/2 | 25 | 15 | 12,5 | 22 | 24 | 4 | 4 |
| K18 025-016 | 25 | 16 | 13,5 | 22 | 24 | 2,1 | 4 |
| K18 025-017/1 | 25 | 17 | 13,5 | 21 | 24,4 | 3,2 | 4 |
| K18 025-017/2 | 25 | 17 | 10 | 22 | 24 | 4 | 4 |
| K18 028-019 | 28 | 19 | 13,5 | 25 | 27 | 2,1 | 4 |
| K18 030-017 | 30 | 17 | 15,4 | 26,5 | 28,5 | 6,35 | 4 |
| K18 030-021 | 30 | 21 | 13,5 | 27 | 29 | 2,1 | 4 |
| K18 030-022 | 30 | 22 | 13,5 | 26 | 29,4 | 3,2 | 4 |
| K18 032-019 | 32 | 19 | 15.4 | 28.5 | 30.7 | 6.35 | 4 |
| K18 032-022 | 32 | 22 | 16,4 | 28,5 | 30,5 | 6,35 | 4 |
| K18 032-022/1 | 32 | 22 | 15,5 | 28 | 31 | 2,6 | 4 |
| K18 032-022/2 | 32 | 22 | 12,5 | 29 | 31 | 3,2 | 4 |
| K18 032-024 | 32 | 24 | 15,5 | 28 | 31 | 3,1 | 4 |
| K18 032-024/1 | 32 | 24 | 10 | 29 | 31 | 4 | 4 |
| K18 035-025 | 35 | 25 | 16,4 | 31,4 | 33,5 | 6,35 | 4 |
| K18 035-027 | 35 | 27 | 15,5 | 31 | 34,4 | 3,2 | 4 |
| K18 038,1-025,4 | 38,1 | 25,4 | 15,87 | 34,54 | 37,08 | 6,35 | 4 |
| K18 040-024 | 40 | 24 | 18,4 | 35,4 | 38,5 | 6,35 | 5 |
| K18 040-026 | 40 | 26 | 15,5 | 36 | 39 | 2,6 | 4,5 |
| K18 040-030 | 40 | 30 | 16,4 | 35,4 | 38,5 | 6,35 | 4 |
| K18 040-030/1 | 40 | 30 | 12,5 | 37 | 39 | 4 | 4 |
| K18 040-030/2 | 40 | 30 | 12.5 | 36 | 39 | 4 | 4 |
| K18 040-032 | 40 | 32 | 15,5 | 36 | 39,4 | 3,2 | 4 |
| K18 040-032/1 | 40 | 32 | 10 | 37 | 39 | 4 | 4 |
| K18 042-028 | 42 | 28 | 15,5 | 38 | 41 | 2,6 | 4,5 |
| K18 044,4-028,57 | 44,45 | 28,57 | 19,05 | 39,85 | 43,12 | 6,35 | 5 |
| K18 045-029 | 45 | 29 | 18,4 | 40,4 | 43,5 | 6,35 | 5 |
| K18 045-031 | 45 | 31 | 15,5 | 41 | 44 | 2,6 | 4,5 |
| K18 045-035 | 45 | 35 | 16,4 | 40,4 | 43,5 | 6,35 | 4 |
| K18 045-037 | 45 | 37 | 15,5 | 41 | 44,4 | 3,2 | 4 |
| K18 050,8-034,92 | 50,8 | 34,92 | 19,05 | 46,23 | 49,48 | 6,35 | 5 |
| K18 050,8-041,27 | 50,8 | 41,27 | 11,1 | 46,27 | 49,19 | 3,81 | 4 |
| K18 050-034 | 50 | 34 | 20,5 | 46 | 49 | 3,1 | 5 |
| K18 050-034/1 | 50 | 34 | 18,4 | 45,41 | 48,66 | 6,35 | 5 |
| K18 050-035 | 50 | 35 | 20 | 46 | 48,5 | 5 | 5 |
| K18 050-038 | 50 | 38 | 20,5 | 46 | 49,4 | 4,2 | 4 |
| K18 050-040 | 50 | 40 | 12,5 | 47 | 49 | 4 | 4 |
| K18 055-039 | 55 | 39 | 20,5 | 51 | 54 | 3,1 | 5 |
| K18 055-039/1 | 55 | 39 | 18,4 | 50,37 | 53,65 | 6,35 | 5 |
| K18 055-045 | 55 | 45 | 12,5 | 52 | 54 | 4 | 4 |
| K18 056-040 | 56 | 40 | 20,5 | 52 | 55 | 3,1 | 5 |
| K18 057,15-041,27 | 57,15 | 41,27 | 19,45 | 52,55 | 55,8 | 6,35 | 5 |
| K18 060,32-044,45 | 60,32 | 44,45 | 19,05 | 55,72 | 58,98 | 6,35 | 5 |
| K18 060-044 | 60 | 44 | 20,5 | 56 | 59 | 3,1 | 5 |
| K18 060-044/1 | 60 | 44 | 18,4 | 55,39 | 58,65 | 6,35 | 5 |
| K18 060-048 | 60 | 48 | 20,5 | 56 | 59,4 | 4,2 | 4 |
| K18 063,5-047,62 | 63,5 | 47,62 | 19,05 | 58,9 | 62,12 | 6,35 | 5 |
| K18 063,5-053,97 | 63,5 | 53,97 | 11,1 | 59,12 | 62,12 | 3,81 | 4 |
| K18 063,5-53,97/1 | 63,5 | 53,97 | 11,1 | 58,92 | 61,9 | 3,81 | 4 |
| K18 063-047 | 63 | 47 | 20,5 | 59 | 62 | 3,1 | 5 |
| K18 063-047/1 | 63 | 47 | 18,4 | 58,39 | 61,63 | 6,35 | 5 |
| K18 063-047/2 | 63 | 47 | 19,4 | 58,4 | 61,5 | 6,35 | 5 |
| K18 063-048 | 63 | 48 | 20 | 59 | 61,5 | 5 | 5 |
| K18 063-051 | 63 | 51 | 20,5 | 59 | 62,4 | 4,2 | 4 |
| K18 063-053 | 63 | 53 | 12,5 | 60 | 62 | 4 | 4 |
| K18 065-049 | 65 | 49 | 20,5 | 61 | 64 | 3,1 | 5 |
| K18 065-050 | 65 | 50 | 18,4 | 60,41 | 63,64 | 6,35 | 5 |
| K18 066,67-050,8 | 66,67 | 50,8 | 19,05 | 62,1 | 65,27 | 6,35 | 5 |
| K18 067-051 | 67 | 51 | 18,4 | 62,4 | 65,6 | 6,35 | 5 |
| K18 069,85-50,8 | 69,85 | 50,8 | 23,79 | 64,07 | 68,85 | 6,35 | 5 |
| K18 070-050 | 70 | 50 | 22,4 | 64,18 | 68,34 | 6,35 | 6 |
| K18 070-054 | 70 | 54 | 20,5 | 66 | 69 | 3,1 | 5 |
| K18 070-055 | 70 | 55 | 20 | 66 | 68,5 | 5 | 5 |
| K18 070-058 | 70 | 58 | 20,5 | 66 | 69,4 | 4,2 | 4 |
| K18 075-055 | 75 | 55 | 22,4 | 69,2 | 73,3 | 6,35 | 6 |
| K18 075-059 | 75 | 59 | 20,5 | 71 | 74 | 3,1 | 5 |
| K18 076,2-057,15 | 76,2 | 57,15 | 23,8 | 70,38 | 74,5 | 6,35 | 5 |
| K18 076,2-60,32 | 76,2 | 60,32 | 19,05 | 70,96 | 74,16 | 6,35 | 5 |
| K18 076,2-66,67 | 76,2 | 66,67 | 11,1 | 71,62 | 74,6 | 3,81 | 4 |
| K18 080-060 | 80 | 60 | 22,4 | 74,15 | 78,3 | 6,35 | 6 |
| K18 080-060/1 | 80 | 60 | 35 | 72,62 | 77,54 | 9,52 | 6 |
| K18 080-060/2 | 80 | 60 | 25 | 75 | 78 | 6,35 | 6 |
| K18 080-062 | 80 | 62 | 22,5 | 76 | 79 | 3,6 | 5 |
| K18 080-065 | 80 | 65 | 20 | 76 | 78,5 | 5 | 5 |
| K18 080-066 | 80 | 66 | 22,4 | 76 | 79,4 | 5,2 | 4,5 |
| K18 082,55-063,5 | 82,55 | 63,5 | 24,21 | 76,73 | 80,9 | 6,35 | 5 |
| K18 085-065 | 85 | 65 | 22,4 | 79,15 | 83,3 | 6,35 | 6 |
| K18 085-065/1 | 85 | 65 | 21,4 | 79,15 | 83,3 | 6,35 | 6 |
| K18 085-075 | 85 | 75 | 20 | 81 | 83,35 | 4 | 4 |
| K18 088,9-069,85 | 88,9 | 69,85 | 24,21 | 83,08 | 87,22 | 6,35 | 5 |
| K18 088,9-69,85/1 | 88,9 | 69,85 | 30,15 | 82,16 | 87,29 | 6,35 | 5 |
| K18 088,9-76,2 | 88,9 | 76,2 | 14,27 | 82,93 | 87,3 | 5,33 | 4 |
| K18 090-070 | 90 | 70 | 22,4 | 84,15 | 88,3 | 6,35 | 6 |
| K18 090-072 | 90 | 72 | 22,5 | 86 | 89 | 3,2 | 5 |
| K18 090-072/1 | 90 | 72 | 22,5 | 86 | 89 | 3,6 | 5 |
| K18 090-075 | 90 | 75 | 20 | 86 | 88,5 | 5 | 5 |
| K18 090-076 | 90 | 76 | 22,4 | 86 | 89,4 | 5,2 | 4,5 |
| K18 095-075 | 95 | 75 | 22,4 | 89,15 | 93,31 | 6,35 | 6 |
| K18 095-081 | 95 | 81 | 22,4 | 91 | 94,4 | 5,2 | 4,5 |
| K18 100-075 | 100 | 75 | 22,4 | 93,13 | 98 | 6,35 | 6 |
| K18 100-080 | 100 | 80 | 25,4 | 95 | 98 | 6,35 | 6 |
| K18 100-080/1 | 100 | 80 | 35 | 92,61 | 97,51 | 9,52 | 6 |
| K18 100-080/2 | 100 | 80 | 25 | 95 | 98 | 6,35 | 6 |
| K18 100-082 | 100 | 82 | 22,5 | 96 | 99 | 3,6 | 5 |
| K18 100-085 | 100 | 85 | 20 | 96 | 98,5 | 5 | 5 |
| K18 100-086 | 100 | 86 | 22,4 | 96 | 99,4 | 5,2 | 4,5 |
| K18 101,6-082,55 | 101,6 | 82,55 | 23,8 | 95,76 | 100,07 | 6,35 | 5 |
| K18 105-080 | 105 | 80 | 22,4 | 98,1 | 103 | 6,5 | 6 |
| K18 105-080/1 | 105 | 80 | 22,4 | 98,1 | 103 | 6,35 | 6 |
| K18 107,95-088,9 | 107,95 | 88,9 | 23,8 | 102,08 | 106,23 | 6,35 | 5 |
| K18 110-085 | 110 | 85 | 22,4 | 103,1 | 108 | 6,35 | 6 |
| K18 110-085/1 | 110 | 85 | 25,4 | 103,1 | 108 | 6,35 | 6 |
| K18 110-090 | 110 | 90 | 35 | 102,6 | 107,51 | 9,52 | 6 |
| K18 110-090/1 | 110 | 90 | 25,3 | 104,1 | 108,3 | 6,4 | 6 |
| K18 110-092 | 110 | 92 | 22,5 | 106 | 109 | 3,6 | 5 |
| K18 110-095 | 110 | 95 | 20 | 105 | 108 | 5 | 5 |
| K18 110-096 | 110 | 96 | 22,4 | 106 | 109,4 | 5,2 | 4,5 |
| K18 114,3-088,9 | 114,3 | 88,9 | 31,75 | 107,42 | 112,33 | 6,35 | 6 |
| K18 115-090 | 115 | 90 | 22,4 | 108,1 | 113,02 | 6,35 | 6 |
| K18 115-097 | 115 | 97 | 22,4 | 111 | 114 | 4,2 | 5 |
| K18 115-097/1 | 115 | 97 | 22,5 | 111 | 114 | 3,6 | 5 |
| K18 115-101 | 115 | 101 | 22,4 | 111 | 114,4 | 5,2 | 4,5 |
| K18 120-095 | 120 | 95 | 22,4 | 113,1 | 118 | 6,35 | 6 |
| K18 120-100 | 120 | 100 | 35 | 112,8 | 117,5 | 9,5 | 6 |
| K18 120-106 | 120 | 106 | 22,4 | 116 | 119,4 | 5,2 | 4,5 |
| K18 125-100 | 125 | 100 | 25,4 | 118,1 | 123 | 6,35 | 6 |
| K18 125-100/1 | 125 | 100 | 45 | 116,82 | 122,33 | 12,7 | 6 |
| K18 125-103 | 125 | 103 | 26,5 | 121 | 124 | 5,1 | 6 |
| K18 125-105 | 125 | 105 | 25,4 | 120 | 123 | 6,35 | 6 |
| K18 125-105/1 | 125 | 105 | 25 | 120 | 123 | 6,35 | 6 |
| K18 125-108 | 125 | 108 | 26,5 | 121 | 124,4 | 7,2 | 5 |
| K18 127-101,6 | 127 | 101,6 | 32,15 | 120,09 | 124,98 | 9,52 | 6 |
| K18 130-105 | 130 | 105 | 25,4 | 123,1 | 128 | 6,35 | 6 |
| K18 130-105/1 | 130 | 105 | 25,4 | 123,1 | 128 | 9,52 | 6 |
| K18 130-105/2 | 130 | 105 | 25,4 | 122,6 | 127,5 | 9,52 | 6 |
| K18 133,35-107,95 | 133,35 | 107,95 | 31,75 | 126,42 | 131,3 | 6,35 | 6 |
| K18 135-110 | 135 | 110 | 25,4 | 127,6 | 132,5 | 9,52 | 6 |
| K18 135-110/1 | 135 | 110 | 25,4 | 128,1 | 133 | 6,35 | 6 |
| K18 139,7-114,3 | 139,7 | 114,3 | 31,75 | 132,4 | 137,2 | 9,5 | 6 |
| K18 139,7-114,3/1 | 139,7 | 114,3 | 31,75 | 132,4 | 137,2 | 6,5 | 6 |
| K18 140-115 | 140 | 115 | 25,4 | 132,6 | 137,5 | 6,35 | 6 |
| K18 140-115/1 | 140 | 115 | 25,4 | 132,6 | 137,5 | 9,52 | 6 |
| K18 140-115/2 | 140 | 115 | 25,4 | 133 | 138 | 6,35 | 6 |
| K18 140-115/4 | 140 | 115 | 45 | 131,7 | 137,36 | 12,7 | 6 |
| K18 140-115/5 | 140 | 115 | 32 | 134 | 138 | 10 | 6 |
| K18 140-118 | 140 | 118 | 26,5 | 136 | 139 | 5,1 | 6 |
| K18 140-120 | 140 | 120 | 25 | 135 | 138 | 6,35 | 6 |
| K18 140-123 | 140 | 123 | 26,5 | 136 | 139,4 | 7,2 | 5 |
| K18 145-120 | 145 | 120 | 25,4 | 137,6 | 142,5 | 9,52 | 6 |
| K18 150-125 | 150 | 125 | 25,4 | 142,6 | 147,5 | 9,5 | 6 |
| K18 150-125/1 | 150 | 125 | 25,4 | 143 | 148 | 6,35 | 6 |
| K18 150-128 | 150 | 128 | 26,5 | 146 | 149 | 5,1 | 6 |
| K18 150-130 | 150 | 130 | 25,4 | 144,1 | 148,3 | 6,35 | 6 |
| K18 150-133 | 150 | 133 | 26,5 | 146 | 149,4 | 7,2 | 5 |
| K18 152,4-127 | 152,4 | 127 | 31,75 | 145 | 149,91 | 9,52 | 6 |
| K18 152,4-127/1 | 152,4 | 127 | 38,1 | 145,69 | 150,79 | 9,52 | 6 |
| K18 155-130 | 155 | 130 | 25,4 | 148 | 153 | 6,35 | 6 |
| K18 155-130/1 | 155 | 130 | 25,4 | 147,6 | 152,5 | 9,52 | 6 |
| K18 160-130 | 160 | 130 | 25,4 | 153 | 157,5 | 6,35 | 6 |
| K18 160-130/1 | 160 | 130 | 25,4 | 152,6 | 157,5 | 9,52 | 6 |
| K18 160-130/2 | 160 | 130 | 25,4 | 153 | 157,5 | 9,52 | 6 |
| K18 160-135 | 160 | 135 | 25,4 | 152,6 | 157,5 | 9,52 | 6 |
| K18 160-135/1 | 160 | 135 | 45 | 151,72 | 157,1 | 12,7 | 6 |
| K18 160-135/2 | 160 | 135 | 32 | 154 | 158 | 10 | 6 |
| K18 160-138 | 160 | 138 | 26,5 | 156 | 159 | 5,1 | 6 |
| K18 160-140 | 160 | 140 | 25 | 155 | 158 | 6,35 | 6 |
| K18 160-143 | 160 | 143 | 26,5 | 156 | 159,4 | 7,2 | 5 |
| K18 165,1-139,62 | 165.1 | 139.62 | 32.5 | 158.14 | 163 | 6.45 | 6 |
| K18 165,1-139,7 | 165,1 | 139,7 | 31,9 | 157,82 | 162,6 | 6,45 | 6 |
| K18 165-140 | 165 | 140 | 25,4 | 157,6 | 162,5 | 9,52 | 6 |
| K18 165-143 | 165 | 143 | 26.5 | 161 | 163.5 | 5.25 | 6 |
| K18 170-140 | 170 | 140 | 25.4 | 163 | 168 | 6.4 | 6 |
| K18 170-145 | 170 | 145 | 25,4 | 161,72 | 167,1 | 12,7 | 6 |
| K18 170-148 | 170 | 148 | 26,5 | 166 | 169 | 5,1 | 6 |
| K18 175-150 | 175 | 150 | 25,4 | 166,72 | 173 | 12,7 | 6 |
| K18 177,8-152,4 | 177,8 | 152,4 | 31,75 | 170,51 | 175,52 | 9,52 | 6 |
| K18 177,8-152,4/1 | 177,8 | 152,4 | 31,75 | 170,52 | 175,52 | 6,45 | 6 |
| K18 180-150 | 180 | 150 | 35,4 | 172,95 | 177,87 | 6,35 | 6 |
| K18 180-150/1 | 180 | 150 | 36 | 172 | 177,87 | 12,5 | 6 |
| K18 180-155 | 180 | 155 | 25,4 | 171,72 | 177,1 | 12,7 | 6 |
| K18 180-158 | 180 | 158 | 26,5 | 176 | 179 | 5,1 | 6 |
| K18 180-163 | 180 | 163 | 26,5 | 176 | 179,4 | 7,2 | 5 |
| K18 185-160 | 185 | 160 | 25,4 | 176,72 | 182,1 | 12,7 | 6 |
| K18 190-165 | 190 | 165 | 25,4 | 181,72 | 187,05 | 12,7 | 6 |
| K18 195-170 | 195 | 170 | 25,4 | 187,1 | 192,05 | 12,7 | 6 |
| K18 200-170 | 200 | 170 | 35,4 | 193 | 198 | 6,35 | 6 |
| K18 200-170/1 | 200 | 170 | 36 | 192 | 197 | 12,5 | 6 |
| K18 200-175 | 200 | 175 | 31,5 | 196 | 199 | 6,6 | 6 |
| K18 200-175/1 | 200 | 175 | 25,4 | 191,62 | 197 | 12,7 | 6 |
| K18 200-180 | 200 | 180 | 31,5 | 196 | 199,4 | 9,2 | 6 |
| K18 203,2-171,45 | 203,2 | 171,45 | 38,1 | 195,09 | 201,17 | 8 | 6 |
| K18 203,2-177,8 | 203,2 | 177,8 | 31,75 | 196,16 | 201,18 | 9,52 | 6 |
| K18 203,2-177,8/1 | 203.2 | 177.8 | 31.75 | 196.16 | 201.1 | 6.35 | 6 |
| K18 210-185 | 210 | 185 | 25,4 | 201,62 | 207 | 12,7 | 6 |
| K18 220-190 | 220 | 190 | 35,4 | 212,7 | 217,9 | 6,35 | 6 |
| K18 220-190/1 | 220 | 190 | 35,4 | 213,5 | 217,9 | 6,35 | 6 |
| K18 220-195 | 220 | 195 | 25,4 | 211,62 | 217 | 12,7 | 6 |
| K18 220-200 | 220 | 200 | 31,5 | 216 | 219,4 | 9,2 | 6 |
| K18 225-195 | 225 | 195 | 35.5 | 218 | 223 | 6.35 | 6 |
| K18 225-200 | 225 | 200 | 31,5 | 221 | 222 | 6,6 | 6 |
| K18 230-205 | 230 | 205 | 25,4 | 221,62 | 227 | 12,7 | 6 |
| K18 240-215 | 240 | 215 | 25,4 | 231,62 | 237 | 12,7 | 6 |
| K18 250-220 | 250 | 220 | 35,4 | 242,9 | 247,85 | 6,35 | 6 |
| K18 250-225 | 250 | 225 | 25,4 | 241,62 | 247 | 12,7 | 6 |
| K18 250-230 | 250 | 230 | 31,5 | 246 | 249,4 | 9,2 | 6 |
| K18 260-235 | 260 | 235 | 35.4 | 252.9 | 257 | 12.7 | 6 |
| K18 280-250 | 280 | 250 | 36,4 | 273 | 278 | 10 | 6 |
| K18 280-250/1 | 280 | 250 | 35,4 | 272,9 | 277,85 | 9,52 | 6 |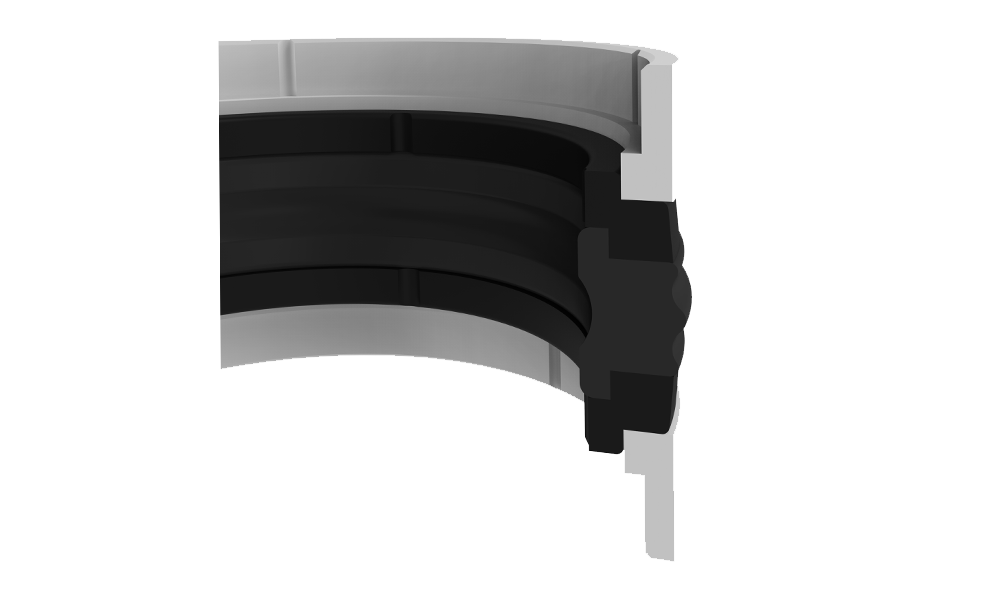 K18 is a five piece double acting compact seal which consists of one elastomeric nitrile rubber sealing element , two polyester elastomer back-up rings on both sides to prevent extrusion into the sealing gap and two special profiled guide rings produced from thermoplastic to absorb transverse forces.
PRODUCT ADVANTAGES
• Superior sealing performance
• Economic sealing and guiding solution
• Simple groove design , one-piece piston possible
• Long service life
• Simple snap installation
APPLICATION
Construction machinery , fork-lift trucks , injection moulding machines , agricultural machinery , cranes and standard cylinders.
| | | |
| --- | --- | --- |
| MATERIAL | | CODE |
| NBR | 80 SHORE A | NB8001 |
| TPE | | TP7301 |
| POM | | PM9901 |
MEDIA
Mineral oils (DIN 51524)
HFA and HFB
HFC
TEMPERATURE
-30°C +105°C
+5°C +60°C
-30°C +60°C
PRESSURE
≤400 Bar
≤400 Bar
≤400 Bar
SPEED
≤0.5 m/sn
≤0.5 m/sn
≤0.5 m/sn

Note: The above data are maximum values and cannot be used at the same time.
SURFACE ROUGHNESS
Ra
Rmax
Sliding Surface ØD
≤0.4 μm
≤4.0 μm
Groove Base Ød
≤1.6 μm
≤6.3 μm
Groove Flanks B
≤3.2 μm
≤16 μm
Note: It is recommended to have 50% to 90% of the working surface material contact area value.

INSTALLATION
Easily assembled into one-piece piston because the back-up rings and guide rings are been produced in split forms. It is very important that the assembly tools must be of soft material and have no sharp edges. Before installation the sealing element must be oiled with system oil.

NOTES
For special applications that require high temperatures , piston seal is manufactured in FKM and PTFE material.