K19 - Heavy Duty Piston Seal

| KASTAŞ NO | D (H8) | d (h9) | B(-0/+0,2) | r | n |
| --- | --- | --- | --- | --- | --- |
| K19 050-036 | 50 | 36 | 9 | 0,3 | 6,5 |
| K19 055-041 | 55 | 41 | 9 | 0,3 | 6,5 |
| K19 060-046 | 60 | 46 | 9 | 0,3 | 6,5 |
| K19 060-050 | 60 | 50 | 8 | 0,3 | 5 |
| K19 063-048 | 63 | 48 | 11 | 0,5 | 7,5 |
| K19 065-050 | 65 | 50 | 11 | 0,5 | 7,5 |
| K19 070-055 | 70 | 55 | 11 | 0,5 | 7,5 |
| K19 075-060 | 75 | 60 | 11 | 0,5 | 7,5 |
| K19 080-065 | 80 | 65 | 11 | 0,5 | 7,5 |
| K19 085-070 | 85 | 70 | 11 | 0,5 | 7,5 |
| K19 090-075 | 90 | 75 | 11 | 0,5 | 7,5 |
| K19 095-080 | 95 | 80 | 11 | 0,5 | 7,5 |
| K19 100-085 | 100 | 85 | 12,5 | 0,5 | 7,5 |
| K19 105-090 | 105 | 90 | 12,5 | 0,5 | 7,5 |
| K19 105-090/1 | 105 | 90 | 13,5 | 0,5 | 7,5 |
| K19 105-090/2 | 105 | 90 | 14 | 0,5 | 7,5 |
| K19 110-095 | 110 | 95 | 12,5 | 0,5 | 7,5 |
| K19 115-100 | 115 | 100 | 12,5 | 0,5 | 7,5 |
| K19 120-105 | 120 | 105 | 12,5 | 0,6 | 7,5 |
| K19 125-102 | 125 | 102 | 16 | 0,6 | 11,5 |
| K19 130-107 | 130 | 107 | 16 | 0,6 | 11,5 |
| K19 135-112 | 135 | 112 | 16 | 0,6 | 11,5 |
| K19 140-117 | 140 | 117 | 16 | 0,6 | 11,5 |
| K19 145-122 | 145 | 122 | 16 | 0,6 | 11,5 |
| K19 150-127 | 150 | 127 | 16 | 0,6 | 11,5 |
| K19 150-130 | 150 | 130 | 18 | 0,6 | 10,5 |
| K19 150-135 | 150 | 135 | 12,5 | 0,6 | 7,5 |
| K19 155-132 | 155 | 132 | 16 | 0.6 | 11.5 |
| K19 160-137 | 160 | 137 | 16 | 0,6 | 11,5 |
| K19 160-141,5 | 160 | 141.5 | 19 | 0.6 | 10.5 |
| K19 160-145 | 160 | 145 | 12,5 | 0,6 | 7,5 |
| K19 165-142 | 165 | 142 | 15,5 | 0,6 | 11,5 |
| K19 165-145 | 165 | 145 | 17 | 0,6 | 10,5 |
| K19 170-147 | 170 | 147 | 16 | 0,6 | 11,5 |
| K19 170-155 | 170 | 155 | 16 | 0,6 | 7,5 |
| K19 180-157 | 180 | 157 | 16 | 0,6 | 11,5 |
| K19 180-160 | 180 | 160 | 18 | 0,6 | 10,5 |
| K19 200-177 | 200 | 177 | 16 | 0,6 | 11,5 |
| K19 290-270 | 290 | 270 | 16 | 0,6 | 10,5 |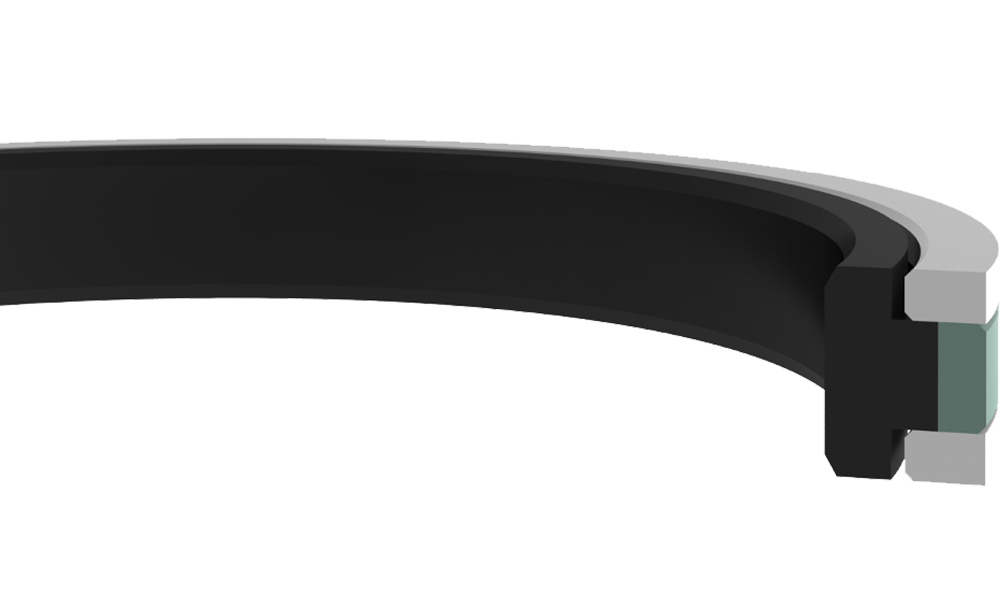 K19 is a four piece double acting heavy duty compact seal which consists of one PTFE bronze profile ring , one elastomeric nitrile rubber pre-load sealing element and two thermoplastic back-up rings.
PRODUCT ADVANTAGES
• High sliding speed
• Low friction , free of stick-slip
• Simple groove design
• Long service life
• Very good sealing performance even with pressure peaks
• High resistance to abrasion
• Increased clearance possible
APPLICATION
Mining equipment , construction machinery and earth moving equipment.
| | | |
| --- | --- | --- |
| MATERIAL | | CODE |
| NBR | 80 SHORE A | NB8001 |
| PTFE | | PT 6003 |
| POM | | PM 9901 |
OPERATING CONDITIONS
MEDIA
Mineral oils(DIN 51524)
HFA and HFB
HFC
TEMPERATURE
-30°C +105°C
+5°C +60°C
-30°C +60°C
PRESSURE
≤400 Bar
≤400 Bar
≤400 Bar
SPEED
≤1.5 m/sn
≤1.5 m/sn
≤1.5 m/sn

Note: The above data are maximum values and cannot be used at the same time.
SURFACE ROUGHNESS
Ra
Rmax
Sliding Surface ØD
≤0.2 μm
≤2.0 μm
Groove Base Ød
≤1.6 μm
≤6.3 μm
Groove Flanks B
≤3.2 μm
≤15 μm
Note: It is recommended to have 50% to 90% of the working surface material contact area value.

INSTALLATION
The elastomeric ring should be assembled into the one-piece piston firstly , and then special mixture PTFE should be assembled with a special assembly tool (See section; Hydraulic Sealing Elements General Installation Information) , lastly the split guide rings should be installed. The required REPLACEion chamfers on the piston and cylinder bore should be de-burred and rounded. It is very important that the assembly tools must be of soft material and have no sharp edges. Before installation the sealing element must be oiled with system oil.

NOTES
For special applications that require high temperatures , piston seal is being manufactured with FKM pre-load component , pure PTFE back-up rings and special mixture PTFE profile ring. Due to the design , K19 can be used up to shock pressures of 600 bar safely. The permissible sealing gap values of K19 heavy duty piston seal is given in the below table.
PERMISSIBLE SEALING GAP
Pressure (Bar)
Smax (mm)
P≤350
0.45
350
0.25