K33 - RodSeal

| KASTAŞ NO | d (f8) | D(H11) | B(-0/+0,2) | b | n |
| --- | --- | --- | --- | --- | --- |
| K33-006 PU | 6 | 9 | 4 | 3,5 | 2 |
| K33-012 PU | 12 | 24 | 9 | 8 | 5 |
| K33-012/1 PU | 12 | 22 | 8 | 7 | 4,5 |
| K33-014 PU | 14 | 24 | 8,2 | 7,2 | 4,5 |
| K33-016 PU | 16 | 22 | 5 | 4,5 | 3 |
| K33-016/1 PU | 16 | 26 | 9 | 8 | 3 |
| K33-017 PU | 17 | 23 | 5 | 4 | 3 |
| K33-018 PU | 18 | 24 | 5,9 | 4,9 | 3 |
| K33-018/1 PU | 18 | 26 | 9 | 8 | 4 |
| K33-018/2 PU | 18 | 26 | 6 | 5 | 4 |
| K33-018/3 PU | 18 | 24 | 5 | 4,2 | 3 |
| K33-019 PU | 19,05 | 25,4 | 7,35 | 6,35 | 3 |
| K33-020 PU | 20 | 30 | 7 | 6 | 4,5 |
| K33-020/1 PU | 20 | 30 | 9 | 8 | 4,5 |
| K33-020/2 PU | 20 | 28 | 7 | 6 | 4 |
| K33-020/3 PU | 20 | 30 | 11 | 10 | 4,5 |
| K33-020/4 PU | 20 | 26 | 6,5 | 5,5 | 3 |
| K33-020/5 PU | 20 | 26 | 6 | 5 | 3 |
| K33-020/6 PU | 20 | 28 | 9 | 8 | 4 |
| K33-020/7 PU | 20 | 28 | 6 | 5 | 4 |
| K33-020/8 PU | 20 | 26 | 5 | 4,5 | 3 |
| K33-020/9 PU | 20 | 28 | 6,7 | 5,7 | 4 |
| K33-022 PU | 22 | 30 | 8 | 7 | 4 |
| K33-022/1 PU | 22 | 32 | 7 | 6 | 4,5 |
| K33-022/2 PU | 22 | 32 | 9 | 8 | 4,5 |
| K33-022/3 PU | 22 | 30 | 9 | 8 | 4 |
| K33-022/4 PU | 22 | 32 | 8 | 7 | 4,5 |
| K33-022/6 PU | 22 | 30 | 7 | 6 | 4 |
| K33-022/7 PU | 22,4 | 30 | 6,5 | 5,5 | 3,8 |
| K33-025 PU | 25 | 35 | 7 | 6 | 4,5 |
| K33-025/1 PU | 25 | 40 | 11 | 10 | 5,5 |
| K33-025/10 PU | 25 | 35 | 9 | 8 | 4,5 |
| K33-025/11 PU | 25 | 35 | 11 | 10 | 4,5 |
| K33-025/12 PU | 25 | 33 | 11 | 10 | 4,5 |
| K33-025/13 PU | 25 | 33 | 6 | 5 | 4,5 |
| K33-025/14 PU | 25 | 35 | 8,3 | 7,3 | 4,5 |
| K33-025/15 PU | 25 | 33 | 6,7 | 5,7 | 4 |
| K33-025/16 PU | 25,4 | 31,75 | 7,35 | 6,35 | 3 |
| K33-025/17 PU | 25,4 | 34,93 | 8,94 | 7,94 | 4,5 |
| K33-025/2 PU | 25 | 33 | 7 | 6 | 4 |
| K33-025/3 PU | 25 | 35 | 8 | 7 | 4,5 |
| K33-025/4 PU | 25 | 33 | 9 | 8 | 4 |
| K33-025/5 PU | 25 | 33 | 7,8 | 6,8 | 4 |
| K33-025/6 PU | 25 | 33 | 8,3 | 7,3 | 4 |
| K33-025/7 PU | 25 | 33 | 6,5 | 5,5 | 4 |
| K33-025/8 PU | 25,4 | 31,5 | 5,75 | 4,75 | 3 |
| K33-025/9 PU | 25 | 33 | 7,5 | 6,5 | 4 |
| K33-028 PU | 28 | 38 | 11 | 10 | 4,5 |
| K33-028/1 PU | 28 | 38 | 8 | 7 | 4,5 |
| K33-028/2 PU | 28 | 36 | 6,8 | 5,8 | 4 |
| K33-028/3 PU | 28 | 35,5 | 6 | 5 | 4 |
| K33-028/4 PU | 28 | 38 | 6,5 | 5,8 | 4,5 |
| K33-028/5 PU | 28 | 36 | 9 | 8 | 4 |
| K33-028/6 PU | 28 | 36 | 8,3 | 7,3 | 4 |
| K33-030 PU | 30 | 40 | 9 | 8 | 4,5 |
| K33-030/1 PU | 30 | 45 | 11 | 10 | 5,5 |
| K33-030/10 PU | 30 | 38 | 6,7 | 5,7 | 4 |
| K33-030/2 PU | 30 | 40 | 8 | 7 | 4,5 |
| K33-030/3 PU | 30 | 40 | 11 | 10 | 4,5 |
| K33-030/4 PU | 30 | 42 | 11 | 10 | 5 |
| K33-030/5 PU | 30 | 43 | 10 | 9 | 5 |
| K33-030/6 PU | 30 | 38 | 8 | 7 | 4 |
| K33-030/7 PU | 30 | 38 | 7 | 6 | 4 |
| K33-030/8 PU | 30 | 40 | 7 | 6 | 4,5 |
| K33-030/9 PU | 30 | 38 | 6,5 | 5,5 | 4 |
| K33-031 PU | 31,75 | 38,1 | 7,35 | 6,35 | 3 |
| K33-031/1 PU | 31,75 | 41,28 | 8,94 | 7,94 | 4,5 |
| K33-032 PU | 32 | 40 | 7 | 6 | 4 |
| K33-032/1 PU | 32 | 40 | 8 | 7 | 4 |
| K33-032/2 PU | 32 | 42 | 11 | 10 | 4,5 |
| K33-032/3 PU | 32 | 42 | 8,3 | 7,3 | 4,5 |
| K33-032/4 PU | 32 | 40 | 9 | 8 | 4 |
| K33-032/5 PU | 32 | 42 | 7 | 6 | 4,5 |
| K33-034 PU | 34,93 | 41,28 | 7,35 | 6,35 | 3 |
| K33-035 PU | 35 | 45 | 9 | 8 | 4,5 |
| K33-035/1 PU | 35 | 50 | 11 | 10 | 5,5 |
| K33-035/2 PU | 35 | 43 | 6,7 | 5,7 | 4 |
| K33-035/3 PU | 35 | 45 | 11 | 10 | 4,5 |
| K33-035/4 PU | 35 | 43 | 8 | 7 | 4 |
| K33-035/5 PU | 35 | 43 | 7 | 6 | 4 |
| K33-035/6 PU | 35 | 45 | 7 | 6 | 4,5 |
| K33-035/7 PU | 35 | 51 | 11 | 10 | 4,5 |
| K33-035/8 PU | 35 | 45 | 8 | 7 | 4,5 |
| K33-036 PU | 36 | 46 | 9 | 8 | 4,5 |
| K33-036/1 PU | 36 | 51 | 11 | 10 | 5,5 |
| K33-036/2 PU | 36 | 52 | 11 | 10 | 6 |
| K33-036/3 PU | 36 | 46 | 8,3 | 7,3 | 4,5 |
| K33-036/4 PU | 36 | 44 | 7 | 6 | 4 |
| K33-036/5 PU | 36 | 46 | 11 | 10 | 4,5 |
| K33-036/6 PU | 36 | 46 | 7 | 6 | 4,5 |
| K33-037 PU | 37 | 47 | 9 | 8 | 4,5 |
| K33-037/1 PU | 37 | 47 | 11 | 10 | 4,5 |
| K33-038 PU | 38 | 48 | 10 | 9 | 4,5 |
| K33-038/1 PU | 38 | 50 | 7 | 6 | 5 |
| K33-038/2 PU | 38 | 53 | 11 | 10 | 5,5 |
| K33-038/3 PU | 38,1 | 44,45 | 7,35 | 6,35 | 3 |
| K33-038/4 PU | 38,1 | 47,63 | 10,53 | 9,53 | 4,5 |
| K33-038/5 PU | 38 | 45 | 7 | 6 | 3,5 |
| K33-040 PU | 40 | 50 | 11 | 10 | 4,5 |
| K33-040/1 PU | 40 | 55 | 11 | 10 | 5,5 |
| K33-040/10 PU | 40 | 50 | 9 | 8 | 4,5 |
| K33-040/2 PU | 40 | 50 | 8,3 | 7,3 | 4,5 |
| K33-040/3 PU | 40 | 60 | 12,5 | 11,5 | 6 |
| K33-040/4 PU | 40 | 48 | 6,7 | 5,7 | 4 |
| K33-040/5 PU | 40 | 50 | 10 | 9 | 4,5 |
| K33-040/6 PU | 40 | 50 | 8 | 7 | 4,5 |
| K33-040/7 PU | 40 | 55 | 12,5 | 11,5 | 5,5 |
| K33-040/8 PU | 40 | 50 | 7 | 6 | 4,5 |
| K33-040/9 PU | 40 | 48 | 7 | 6 | 4 |
| K33-042 PU | 42 | 50 | 6,7 | 5,7 | 4 |
| K33-044 PU | 44,45 | 53,98 | 10,53 | 9,53 | 4,5 |
| K33-044/1 PU | 44,45 | 57,15 | 10,53 | 9,53 | 5 |
| K33-045 PU | 45 | 55 | 11 | 10 | 4,5 |
| K33-045/1 PU | 45 | 60 | 11 | 10 | 5,5 |
| K33-045/2 PU | 45 | 55 | 8 | 7 | 4,5 |
| K33-045/3 PU | 45 | 55 | 8,3 | 7,3 | 4,5 |
| K33-045/4 PU | 45 | 60 | 12,5 | 11,5 | 5,5 |
| K33-045/5 PU | 45 | 55 | 7 | 6 | 4,5 |
| K33-045/6 PU | 45 | 55 | 9 | 8 | 4,5 |
| K33-045/7 PU | 45 | 53 | 6,5 | 5,6 | 4,5 |
| K33-045/8 PU | 45 | 53 | 8 | 7 | 4 |
| K33-045/9 PU | 45 | 53 | 9 | 8 | 4 |
| K33-050 PU | 50 | 60 | 11 | 10 | 4,5 |
| K33-050/1 PU | 50 | 65 | 11 | 10 | 5,5 |
| K33-050/10 PU | 50,8 | 63,5 | 10,53 | 9,53 | 5 |
| K33-050/11 PU | 50 | 58 | 9 | 8 | 4 |
| K33-050/2 PU | 50 | 60 | 13 | 12 | 4,5 |
| K33-050/3 PU | 50 | 60 | 8,5 | 7,5 | 4,5 |
| K33-050/4 PU | 50 | 60 | 8,3 | 7,3 | 4,5 |
| K33-050/5 PU | 50 | 65 | 12,5 | 11,5 | 5,5 |
| K33-050/6 PU | 50 | 60 | 8 | 7 | 4,5 |
| K33-050/7 PU | 50 | 60 | 7 | 6 | 4,5 |
| K33-050/8 PU | 50 | 60 | 9 | 8 | 4,5 |
| K33-050/9 PU | 50 | 65 | 10 | 9 | 5,5 |
| K33-055 PU | 55 | 65 | 11 | 10 | 4,5 |
| K33-055/1 PU | 55 | 63 | 12,5 | 11,5 | 4 |
| K33-055/2 PU | 55 | 70 | 12,5 | 11,5 | 5,5 |
| K33-055/3 PU | 55 | 65 | 7 | 6 | 4,5 |
| K33-055/4 PU | 55 | 65 | 9 | 8 | 4,5 |
| K33-055/5 PU | 55 | 68 | 11 | 10 | 4,5 |
| K33-055/6 PU | 55 | 70 | 10 | 9 | 5,5 |
| K33-055/7 PU | 55 | 71 | 13 | 12 | 6 |
| K33-055/8 PU | 55 | 65 | 8 | 7 | 4,5 |
| K33-056 PU | 56 | 66 | 9 | 8 | 4,5 |
| K33-056/1 PU | 56 | 66 | 7,5 | 6,5 | 4,5 |
| K33-056/2 PU | 56 | 71 | 12,5 | 11,5 | 4,5 |
| K33-056/3 PU | 56 | 66 | 11 | 10 | 4,5 |
| K33-057,15 PU | 57,15 | 63,5 | 10,53 | 9,53 | 3 |
| K33-060 PU | 60 | 80 | 13 | 12 | 6 |
| K33-060/1 PU | 60 | 70 | 12,5 | 11,5 | 4,5 |
| K33-060/10 PU | 60 | 76 | 11 | 10 | 6 |
| K33-060/11 PU | 60 | 68 | 12,5 | 11,5 | 4 |
| K33-060/12 PU | 60 | 68 | 9 | 8 | 4 |
| K33-060/2 PU | 60 | 75 | 13 | 12 | 5,5 |
| K33-060/3 PU | 60 | 70 | 11 | 10 | 4,5 |
| K33-060/4 PU | 60 | 70 | 13 | 12 | 4,5 |
| K33-060/5 PU | 60 | 75 | 11 | 10 | 5,5 |
| K33-060/6 PU | 60 | 70 | 8 | 7 | 4,5 |
| K33-060/7 PU | 60 | 70 | 7 | 6 | 4,5 |
| K33-060/8 PU | 60 | 73 | 11 | 10 | 4,5 |
| K33-060/9 PU | 60 | 75 | 10 | 9 | 5,5 |
| K33-063 PU | 63 | 83 | 13 | 12 | 6 |
| K33-063/1 PU | 63 | 78 | 12,5 | 11,5 | 5,5 |
| K33-063/2 PU | 63 | 78 | 11 | 10 | 5,5 |
| K33-063/3 PU | 63,5 | 82,55 | 16,87 | 15,87 | 6 |
| K33-063/4 PU | 63,5 | 73,02 | 10,52 | 9,52 | 4 |
| K33-063/5 PU | 63 | 73 | 13 | 12 | 4,5 |
| K33-063/6 PU | 63 | 73 | 11 | 10 | 4,5 |
| K33-063/7 PU | 63,5 | 76,2 | 10,53 | 9,53 | 5 |
| K33-063/8 PU | 63 | 71 | 9 | 8 | 4 |
| K33-065 PU | 65 | 75 | 11 | 10 | 4,5 |
| K33-065/1 PU | 65 | 75 | 12,5 | 11,5 | 4,5 |
| K33-065/3 PU | 65 | 75 | 14 | 13 | 4,5 |
| K33-065/4 PU | 65 | 75 | 7 | 6 | 4,5 |
| K33-065/5 PU | 65 | 80 | 10 | 9 | 5,5 |
| K33-065/6 PU | 65 | 78 | 11 | 10 | 5,5 |
| K33-065/7 PU | 65 | 80 | 13 | 12 | 5,5 |
| K33-068 PU | 68 | 78 | 13 | 12 | 4,5 |
| K33-069 PU | 69,85 | 82,55 | 10,53 | 9,53 | 5 |
| K33-070 PU | 70 | 80 | 13 | 12 | 4,5 |
| K33-070/1 PU | 70 | 78 | 12,5 | 11,5 | 4 |
| K33-070/10 PU | 70 | 78 | 9 | 8 | 4,5 |
| K33-070/11 PU | 70 | 85 | 11 | 10 | 5,5 |
| K33-070/12 PU | 70 | 83 | 11 | 10 | 5 |
| K33-070/13 PU | 70 | 82 | 9,6 | 8,6 | 5 |
| K33-070/2 PU | 70 | 80 | 12,5 | 11,5 | 4,5 |
| K33-070/3 PU | 70 | 85 | 12,5 | 11,5 | 5,5 |
| K33-070/4 PU | 70 | 85 | 13 | 12 | 5,5 |
| K33-070/5 PU | 70 | 90 | 13 | 12 | 6 |
| K33-070/6 PU | 70 | 85 | 14 | 13 | 5,5 |
| K33-070/7 PU | 70 | 80 | 7 | 6 | 4,5 |
| K33-070/8 PU | 70 | 85 | 10 | 9 | 5,5 |
| K33-070/9 PU | 70 | 80 | 11 | 10 | 5,5 |
| K33-075 PU | 75 | 85 | 13 | 12 | 4,5 |
| K33-075/1 PU | 75 | 83 | 12,5 | 11,5 | 4 |
| K33-075/10 PU | 75 | 83 | 9 | 8 | 4 |
| K33-075/2 PU | 75 | 85 | 12,5 | 11,5 | 4,5 |
| K33-075/3 PU | 75 | 90 | 13 | 12 | 5,5 |
| K33-075/4 PU | 75 | 90 | 12,5 | 11,5 | 5,5 |
| K33-075/5 PU | 75 | 85 | 7 | 6 | 4,5 |
| K33-075/6 PU | 75 | 90 | 10 | 9 | 5,5 |
| K33-075/7 PU | 75 | 90 | 11 | 10 | 5,5 |
| K33-075/8 PU | 75 | 88 | 11 | 10 | 5 |
| K33-075/9 PU | 75 | 87 | 9,6 | 8,6 | 5 |
| K33-077 PU | 77 | 87 | 13 | 12 | 4,5 |
| K33-080 PU | 80 | 90 | 13 | 12 | 4,5 |
| K33-080/1 PU | 80 | 88 | 12,5 | 11,5 | 4 |
| K33-080/10 PU | 80 | 95 | 10 | 9 | 5,5 |
| K33-080/11 PU | 80 | 93 | 11 | 10 | 5 |
| K33-080/12 PU | 80 | 90 | 11 | 10 | 4,5 |
| K33-080/2 PU | 80 | 95 | 12,5 | 11,5 | 5,5 |
| K33-080/3 PU | 80 | 100 | 13 | 12 | 6 |
| K33-080/4 PU | 80 | 100 | 16 | 15 | 6 |
| K33-080/5 PU | 80 | 95 | 13 | 12 | 5,5 |
| K33-080/6 PU | 80 | 100 | 11 | 10 | 6 |
| K33-080/7 PU | 80 | 95 | 11 | 10 | 5,5 |
| K33-080/8 PU | 80 | 90 | 7 | 6 | 4,5 |
| K33-080/9 PU | 80 | 90 | 10 | 9 | 4,5 |
| K33-085 PU | 85 | 95 | 13 | 12 | 4,5 |
| K33-085/1 PU | 85 | 93 | 13 | 12 | 4 |
| K33-085/2 PU | 85 | 100 | 13 | 12 | 5,5 |
| K33-085/3 PU | 85 | 105 | 13 | 12 | 6 |
| K33-085/4 PU | 85 | 100 | 10 | 9 | 5,5 |
| K33-085/5 PU | 85 | 100 | 11 | 10 | 5,5 |
| K33-090 PU | 90 | 100 | 13 | 12 | 4,5 |
| K33-090/1 PU | 90 | 98 | 12,5 | 11,5 | 4 |
| K33-090/10 PU | 90 | 110 | 16 | 15 | 5,5 |
| K33-090/11 PU | 90 | 105 | 12,5 | 11,5 | 5,5 |
| K33-090/12 PU | 90 | 105 | 10 | 9 | 4,5 |
| K33-090/13 PU | 90 | 98 | 9 | 8 | 4,5 |
| K33-090/14 PU | 90 | 105 | 11 | 10 | 5,5 |
| K33-090/2 PU | 90 | 100 | 11 | 10 | 4,5 |
| K33-090/3 PU | 90 | 110 | 11 | 10 | 6 |
| K33-090/4 PU | 90 | 98 | 11,9 | 10,9 | 4 |
| K33-090/5 PU | 90 | 105 | 13 | 12 | 5,5 |
| K33-090/6 PU | 90 | 110 | 14 | 13 | 6 |
| K33-090/7 PU | 90 | 100 | 12,5 | 11,5 | 4,5 |
| K33-090/8 PU | 90 | 100 | 8 | 7 | 4,5 |
| K33-090/9 PU | 90 | 110 | 13 | 12 | 6 |
| K33-095 PU | 95 | 105 | 13 | 12 | 4,5 |
| K33-095/1 PU | 95 | 103 | 12,5 | 11,5 | 4 |
| K33-095/2 PU | 95 | 110 | 11 | 10 | 5,5 |
| K33-095/3 PU | 95 | 115 | 13 | 12 | 6 |
| K33-095/4 PU | 95 | 110 | 10 | 9 | 5,5 |
| K33-095/5 PU | 95 | 110 | 13 | 12 | 4,5 |
| K33-100 PU | 100 | 115 | 13 | 12 | 5,5 |
| K33-100/1 PU | 100 | 110 | 12,5 | 11,5 | 4,5 |
| K33-100/10 PU | 100 | 115 | 11 | 10 | 5,5 |
| K33-100/2 PU | 100 | 108 | 12,5 | 11,5 | 4 |
| K33-100/3 PU | 100 | 115 | 12 | 11 | 5,5 |
| K33-100/4 PU | 100 | 120 | 13 | 12 | 6 |
| K33-100/5 PU | 100 | 130 | 13 | 12 | 8 |
| K33-100/6 PU | 100 | 125 | 16 | 15 | 7 |
| K33-100/7 PU | 100 | 120 | 15 | 14 | 6 |
| K33-100/8 PU | 100 | 115 | 10 | 9 | 5,5 |
| K33-100/9 PU | 100 | 120 | 16 | 15 | 5,5 |
| K33-105 PU | 105 | 115 | 13 | 12 | 4,5 |
| K33-105/1 PU | 105 | 120 | 11 | 10 | 5,5 |
| K33-105/2 PU | 105 | 113 | 12,5 | 11,5 | 4 |
| K33-105/3 PU | 105 | 115 | 12,5 | 11,5 | 4,5 |
| K33-105/4 PU | 105 | 125 | 13 | 12 | 6 |
| K33-105/5 PU | 105 | 125 | 16 | 15 | 6 |
| K33-105/6 PU | 105 | 120 | 10 | 9 | 5,5 |
| K33-105/7 PU | 105 | 120 | 13 | 12 | 5,5 |
| K33-105/8 PU | 105 | 113 | 9 | 8 | 4 |
| K33-106 PU | 106 | 120 | 9,4 | 8,4 | 5,5 |
| K33-110 PU | 110 | 118 | 12,5 | 11,5 | 4 |
| K33-110/1 PU | 110 | 125 | 13 | 12 | 5,5 |
| K33-110/2 PU | 110 | 130 | 16 | 15 | 6 |
| K33-110/3 PU | 110 | 125 | 12 | 11 | 5,5 |
| K33-110/4 PU | 110 | 130 | 13 | 12 | 6 |
| K33-110/5 PU | 110 | 125 | 16 | 15 | 5,5 |
| K33-110/6 PU | 110 | 125 | 10 | 9 | 5,5 |
| K33-113 PU | 113 | 128 | 13 | 12 | 5,5 |
| K33-115 PU | 115 | 125 | 13 | 12 | 4,5 |
| K33-115/1 PU | 115 | 135 | 13 | 12 | 6 |
| K33-115/2 PU | 115 | 123 | 13 | 12 | 4 |
| K33-115/3 PU | 115 | 130 | 10 | 9 | 5,5 |
| K33-115/4 PU | 115 | 130 | 13 | 12 | 5,5 |
| K33-115/5 PU | 115 | 135 | 16 | 15 | 6 |
| K33-117 PU | 117 | 133 | 10 | 9 | 4,5 |
| K33-118 PU | 118 | 126 | 12,5 | 11,5 | 4 |
| K33-120 PU | 120 | 140 | 16 | 15 | 6 |
| K33-120/1 PU | 120 | 135 | 16 | 15 | 5,5 |
| K33-120/2 PU | 120 | 140 | 13 | 12 | 6 |
| K33-120/3 PU | 120 | 130 | 12,5 | 11,5 | 4,5 |
| K33-120/4 PU | 120 | 150 | 16 | 15 | 8 |
| K33-120/5 PU | 120 | 140 | 15,6 | 14,6 | 6 |
| K33-120/6 PU | 120 | 135 | 10 | 9 | 5,5 |
| K33-120/8 PU | 120 | 130 | 9 | 8 | 4,5 |
| K33-123 PU | 123 | 132 | 13 | 12 | 4 |
| K33-125 PU | 125 | 150 | 15 | 14 | 7 |
| K33-125/1 PU | 125 | 145 | 16 | 15 | 6 |
| K33-125/2 PU | 125 | 133 | 12,5 | 11,5 | 4 |
| K33-125/3 PU | 125 | 145 | 13 | 12 | 6 |
| K33-125/4 PU | 125 | 135 | 13 | 12 | 4,5 |
| K33-125/5 PU | 125 | 140 | 10 | 9 | 5,5 |
| K33-125/6 PU | 125 | 133 | 11 | 10 | 4 |
| K33-130 PU | 130 | 145 | 10 | 9 | 5,5 |
| K33-130/1 PU | 130 | 138 | 12,5 | 11,5 | 4 |
| K33-130/2 PU | 130 | 150 | 16 | 15 | 6 |
| K33-130/3 PU | 130 | 145 | 14 | 13 | 5,5 |
| K33-130/4 PU | 130 | 145 | 16 | 15 | 5,5 |
| K33-135 PU | 135 | 145 | 13 | 12 | 4,5 |
| K33-135/1 PU | 135 | 150 | 12,5 | 11,5 | 5,5 |
| K33-140 PU | 140 | 160 | 16 | 15 | 6 |
| K33-140/1 PU | 140 | 160 | 15,5 | 14,5 | 6 |
| K33-140/2 PU | 140 | 160 | 13 | 12 | 6 |
| K33-140/3 PU | 140 | 150 | 12,5 | 11,5 | 4,5 |
| K33-140/4 PU | 140 | 170 | 19 | 18 | 8 |
| K33-140/5 PU | 140 | 148 | 12,5 | 11,5 | 4 |
| K33-140/6 PU | 140 | 152 | 9 | 8 | 5 |
| K33-142 PU | 142 | 157 | 13 | 12 | 5,5 |
| K33-143 PU | 143 | 151 | 12,5 | 11,5 | 4 |
| K33-145 PU | 145 | 155 | 13 | 12 | 4,5 |
| K33-145/1 PU | 145 | 155 | 11 | 10 | 4,5 |
| K33-150 PU | 150 | 170 | 15 | 14 | 6 |
| K33-150/1 PU | 150 | 180 | 19 | 18 | 8 |
| K33-150/2 PU | 150 | 170 | 13 | 12 | 6 |
| K33-150/3 PU | 150 | 170 | 16 | 15 | 5,5 |
| K33-155 PU | 155 | 165 | 13 | 12 | 4,5 |
| K33-155/1 PU | 155 | 163 | 12,5 | 11,5 | 4 |
| K33-160 PU | 160 | 170 | 13 | 12 | 4,5 |
| K33-160/1 PU | 160 | 185 | 16 | 15 | 7 |
| K33-160/2 PU | 160 | 170 | 12,5 | 11,5 | 4,5 |
| K33-160/3 PU | 160 | 180 | 16 | 15 | 6 |
| K33-163 PU | 163 | 183 | 16 | 15 | 6 |
| K33-165 PU | 165,1 | 177,8 | 10,52 | 9,52 | 5 |
| K33-165/1 PU | 165 | 175 | 13 | 12 | 4,5 |
| K33-165/2 PU | 165 | 179 | 9 | 8 | 5,5 |
| K33-170 PU | 170 | 200 | 16 | 15 | 8 |
| K33-170/1 PU | 170 | 190 | 15 | 14 | 6 |
| K33-172 PU | 172 | 187 | 13 | 12 | 5,5 |
| K33-172/1 PU | 172 | 197 | 16 | 15 | 7 |
| K33-175 PU | 175 | 215 | 21 | 20 | 10 |
| K33-175/1 PU | 175 | 185 | 13 | 12 | 4,5 |
| K33-180 PU | 180 | 200 | 16 | 15 | 6 |
| K33-180/1 PU | 180 | 195 | 12,5 | 11,5 | 5,5 |
| K33-185 PU | 185 | 195 | 13 | 12 | 4,5 |
| K33-190 PU | 190 | 210 | 16 | 15 | 6 |
| K33-190/1 PU | 190,5 | 203,2 | 10,52 | 9,52 | 5 |
| K33-192 PU | 192 | 212 | 13 | 12 | 6 |
| K33-200 PU | 200 | 212 | 16 | 15 | 5 |
| K33-200/1 PU | 200 | 220 | 16 | 15 | 5,5 |
| K33-200/2 PU | 200 | 220 | 13,5 | 12,5 | 6 |
| K33-210 PU | 210 | 230 | 16 | 15 | 6 |
| K33-212 PU | 212 | 222 | 13 | 12 | 4,5 |
| K33-215 PU | 215 | 235 | 13 | 12 | 6 |
| K33-220 PU | 220 | 250 | 19 | 18 | 8 |
| K33-230 PU | 230 | 260 | 19 | 18 | 8 |
| K33-235 PU | 235 | 255 | 13 | 12 | 6 |
| K33-240 PU | 240 | 260 | 16 | 15 | 6 |
| K33-245 PU | 245 | 275 | 19 | 18 | 8 |
| K33-252 PU | 252 | 273 | 11 | 10 | 7 |
| K33-258 PU | 258 | 278 | 16 | 15 | 6 |
| K33-280 PU | 280 | 310 | 19 | 18 | 8 |
| K33-280/1 PU | 280 | 300 | 16 | 15 | 8 |
| K33-300 PU | 300 | 330 | 18 | 17 | 8 |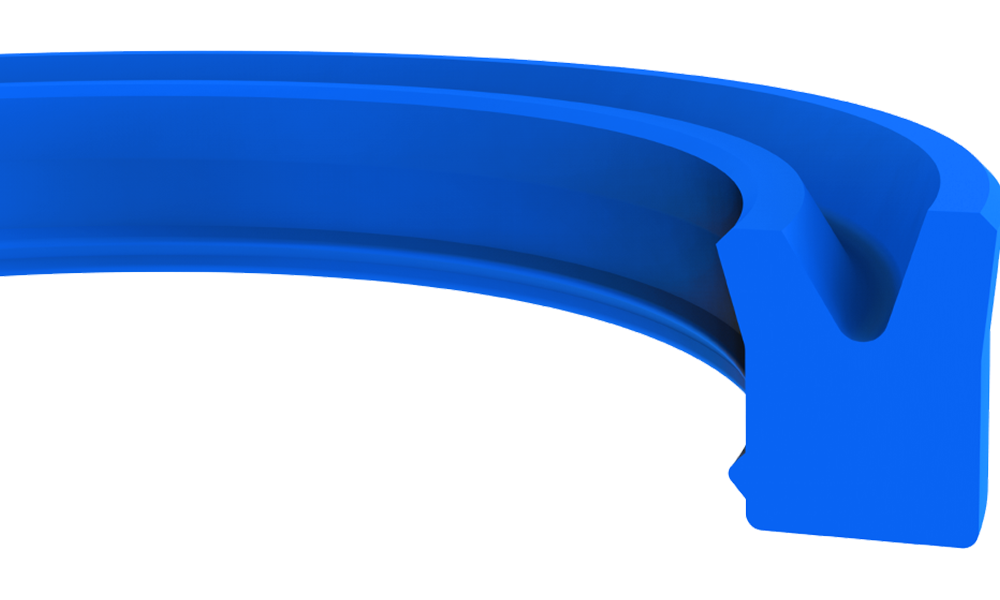 K33 is a single acting rod seal designed to have inner lip shorter than the outer lip and additional sealing lip which improves the leakage behavior and , at the same time , prevents the entry of contaminations from the wiper side.

PRODUCT ADVANTAGES
• High wear resistance
• Superior sealing effect with the secondary lip
• Secondary sealing lip provides extra protection against the ingress of dirt particles
• Wide range of dimensions
• Simple groove design
• Easy assembly into closed grooves

APPLICATION
Construction machinery , fork-lift trucks , injection moulding machines , agricultural machinery , loading platforms and standard cylinders.


OPERATING CONDITIONS
MEDIA
Mineral oils (DIN 51524)
HFA and HFB
HFC
TEMPERATURE
-35°C +110°C
+5°C +50°C
-30°C +40°C
PRESSURE
≤400 Bar
≤400 Bar
≤400 Bar
SPEED
≤0.5 m/sn
≤0.5 m/sn
≤0.5 m/sn

Note: The above data are maximum values and cannot be used at the same time.
SURFACE ROUGHNESS
Ra
Rmax
Sliding Surface Ød
≤0.4 μm
≤3.2 μm
Groove Base ØD
≤1.6 μm
≤10 μm
Groove Flanks B
≤3.2 μm
≤16 μm
Note: It is recommended to have 50% to 90% of the working surface material contact area value.

INSTALLATION
Easily assembled into closed grooves according to the minimum diameter values that are given in the below table. Open grooves or special assembly tools should be used for the values that are outside this table. It is very important that the assembly tools must be of soft material and have no sharp edges. Before installation the sealing element must be oiled with system oil.


MINUMUM DIAMETER VALUES FOR CLOSED TYPE OF GROOVES
(D-d)/2 (mm)
4
5
6
7.7
10
12.5
15
dmin (mm)
25
30
40
50
80
100
105

NOTESThe permissible sealing gap values of K33 rod seal is givenin the below table.
PERMISSIBLE SEALING GAP
Smax (mm)
t=(D-d)/2(mm)
150 Bar
250 Bar
400 Bar
t≤5
0.30
0.20
0.15
t>5
0.35
0.25
0.20
Note: The largest sealing gap value occurring on the non-pressurized side of the seal does have a vital importance for the function of the seal and in this respect it is quite important to use the S value lower than the above indicated numbers.