K35 - RodSeal

| KASTAŞ NO | d(f8) | D (H9) | B(-0/+0,2) | r | n | o rıng |
| --- | --- | --- | --- | --- | --- | --- |
| K35-002,5 | 2.5 | 6.9 | 2.2 | 0.4 | 1.5 | 3,68x1,78 |
| K35-004 | 4 | 8.9 | 2.2 | 0.4 | 2 | 5,28x1,78 |
| K35-005 | 5 | 9.9 | 2.2 | 0.4 | 2 | 6,35x1,78 |
| K35-006 | 6 | 10,9 | 2,2 | 0,4 | 2 | 7,66X1,78 |
| K35-008 | 8 | 12,9 | 2,2 | 0,4 | 2 | 9,66x1,78 |
| K35-008/1 | 8 | 15,3 | 3,2 | 0,6 | 3 | 10,78X2,62 |
| K35-009 | 9 | 16,2 | 3,2 | 0,6 | 3 | 11,91X2,62 |
| K35-009/1 | 9 | 13,9 | 2,2 | 0,4 | 2 | 10,82X1,78 |
| K35-010 | 10 | 14,9 | 2,2 | 0,4 | 2 | 11,11x1,78 |
| K35-010/1 | 10 | 17.3 | 3.2 | 0.6 | 3 | 12,42x1,78 |
| K35-012 | 12 | 19,3 | 3,2 | 0,6 | 3 | 13,95x2,62 |
| K35-012,7 | 12,7 | 17,6 | 2,2 | 0,4 | 2 | 14X1,78 |
| K35-014 | 14 | 21,3 | 3,2 | 0,6 | 3 | 17,13x2,62 |
| K35-015 | 15 | 19,9 | 2,2 | 0,4 | 0,4 | 17,17X1,78 |
| K35-015/1 | 15 | 22,3 | 3,2 | 0,6 | 3 | 17,86X2,62 |
| K35-016 | 16 | 23,3 | 3,2 | 0,6 | 3 | 18,72x2,62 |
| K35-016/1 | 16 | 20.9 | 2.2 | 0.4 | 2 | 17,17x1,78 |
| K35-018 | 18 | 25,3 | 3,2 | 0,6 | 3 | 20,29x2,62 |
| K35-018/1 | 18 | 22,9 | 2,2 | 0,4 | 2 | 18,77x1,78 |
| K35-019 | 19 | 29.7 | 4.2 | 1 | 3.5 | 23,4x3,53 |
| K35-020 | 20 | 30,7 | 4,2 | 1 | 3,5 | 24,99x3,53 |
| K35-020/1 | 20 | 27,3 | 3,2 | 0,6 | 3 | 22,22x2,62 |
| K35-022 | 22 | 32,7 | 4,2 | 1 | 3,5 | 26,58x3,53 |
| K35-022/1 | 22 | 29,5 | 3,2 | 0,6 | 3 | 25,07x2,62 |
| K35-022/2 | 22 | 29.3 | 3.2 | 0.6 | 3 | 25,07x2,62 |
| K35-025 | 25 | 35,7 | 4,2 | 1 | 3,5 | 31,34x3,53 |
| K35-025,40 | 25.4 | 36.1 | 4.2 | 1 | 3.5 | 29,75x3,53 |
| K35-025/1 | 25 | 32,3 | 3,2 | 0,6 | 3 | 28,25x2,62 |
| K35-026 | 26 | 36,7 | 4,2 | 1 | 3,5 | 31,34x3,53 |
| K35-028 | 28 | 38,7 | 4,2 | 1 | 3,5 | 32,92x3,53 |
| K35-028/1 | 28 | 35,3 | 3,2 | 1 | 3 | 29,82x2,62 |
| K35-030 | 30 | 40,7 | 4,2 | 1 | 3,5 | 34,52x3,53 |
| K35-030/1 | 30 | 37,3 | 3,2 | 0,6 | 3 | 33,00x2,62 |
| K35-032 | 32 | 42,7 | 4,2 | 1 | 3,5 | 36,09x3,53 |
| K35-032/1 | 32 | 39,3 | 3,2 | 0,6 | 3 | 34,59x2,62 |
| K35-035 | 35 | 45,7 | 4,2 | 1 | 3,5 | 37,69x3,53 |
| K35-035/1 | 35 | 42,3 | 3,2 | 0,6 | 3 | 37,77x2,62 |
| K35-036 | 36 | 46,7 | 4,2 | 1 | 3,5 | 40,87x3,53 |
| K35-036/1 | 36 | 43,3 | 3,2 | 0,6 | 3 | 39,34x2,62 |
| K35-038 | 38 | 48,7 | 4,2 | 1 | 3,5 | 40,87x3,53 |
| K35-038/1 | 38 | 53.1 | 6.3 | 1.3 | 5.5 | 43,82x5,33 |
| K35-040 | 40 | 55,1 | 6,3 | 1,3 | 5,5 | 43,82x5,33 |
| K35-040/1 | 40 | 50,7 | 4,2 | 1 | 3,5 | 44,45x3,53 |
| K35-042 | 42 | 52,7 | 4,2 | 1 | 3,5 | 47,22X3,53 |
| K35-042/1 | 42 | 57.1 | 6.3 | 1.3 | 5.5 | 47x5,33 |
| K35-043 | 43 | 53,7 | 4,2 | 1 | 3,5 | 47,22X2,35 |
| K35-045 | 45 | 60,1 | 6,3 | 1,3 | 5,5 | 50,16x5,33 |
| K35-045/1 | 45 | 55,7 | 4,2 | 1 | 3,5 | 50,39x3,53 |
| K35-048 | 48 | 63,1 | 6,3 | 1,3 | 5,5 | 53,34x5,33 |
| K35-048/1 | 48 | 58,7 | 4,2 | 1 | 3,5 | 50,80x3,53 |
| K35-050 | 50 | 65,1 | 6,3 | 1,3 | 5,5 | 56,52x5,33 |
| K35-050,8 | 50.8 | 61.5 | 4.2 | 1 | 3.5 | 53,57x3,53 |
| K35-050/1 | 50 | 60,7 | 4,2 | 1 | 3,5 | 53,57x3,53 |
| K35-052 | 52 | 62,7 | 4,2 | 1 | 3,5 | 56,74x3,53 |
| K35-052/1 | 52 | 67,1 | 6,3 | 1,3 | 5,5 | 56,52x5,33 |
| K35-055 | 55 | 70,1 | 6,3 | 1,3 | 5,5 | 59,69x5,33 |
| K35-055/1 | 55 | 65.7 | 4.2 | 1 | 3.5 | 58,74x3,53 |
| K35-056 | 56 | 71,1 | 6,3 | 1,3 | 5,5 | 62,87x5,33 |
| K35-056/1 | 56 | 66,7 | 4,2 | 1 | 3,5 | 59,92x3,53 |
| K35-057 | 57 | 72,1 | 6,3 | 1,3 | 5,5 | 59,7X5,33 |
| K35-060 | 60 | 75,1 | 6,3 | 1,3 | 5,5 | 66,04x5,33 |
| K35-060/1 | 60 | 70,7 | 4,2 | 1 | 3,5 | 63,09x3,53 |
| K35-063 | 63 | 78,1 | 6,3 | 1,3 | 5,5 | 69,22x5,33 |
| K35-063.5 | 63.5 | 78.6 | 6.3 | 1.3 | 5.5 | 69,22x5,33 |
| K35-063/1 | 63 | 73,7 | 4,2 | 1 | 3,5 | 66,04x3,53 |
| K35-065 | 65 | 80,1 | 6,3 | 1,3 | 5,5 | 69,22x5,33 |
| K35-065/1 | 65 | 75,7 | 4,2 | 1 | 3,5 | 68,26X3,53 |
| K35-067 | 67 | 82,1 | 6,3 | 1,3 | 5,5 | 72,40x5,33 |
| K35-068 | 68 | 83,1 | 6,3 | 1,3 | 5,5 | 72,40x5,33 |
| K35-068/1 | 68 | 78,7 | 4,2 | 1 | 3,5 | 72,62x3,53 |
| K35-070 | 70 | 85,1 | 6,3 | 1,3 | 5,5 | 75,57x5,33 |
| K35-070/1 | 70 | 80,7 | 4,2 | 1 | 3,5 | 75,79x3,53 |
| K35-073 | 73 | 88,1 | 6,3 | 1,3 | 5,5 | 75,79x3,53 |
| K35-075 | 75 | 90,1 | 6,3 | 1,3 | 5,5 | 81,92x5,33 |
| K35-075/2 | 75 | 85.7 | 4.2 | 1 | 3.5 | 78,97x3,53 |
| K35-076,2 | 76,2 | 91,3 | 6,3 | 1,3 | 5,5 | 81,92X5,33 |
| K35-078 | 78 | 93.1 | 6.3 | 1.3 | 5.5 | 81,92x5,33 |
| K35-080 | 80 | 95,1 | 6,3 | 1,3 | 5,5 | 85,09x5,33 |
| K35-080/1 | 80 | 90,7 | 4,2 | 1 | 3,5 | 85,32x3,53 |
| K35-085 | 85 | 100,1 | 6,3 | 1,3 | 6 | 91,44 x 5, |
| K35-090 | 90 | 105,1 | 6,3 | 1,3 | 6 | 94,62 x 5, |
| K35-090/1 | 90 | 100,7 | 4,2 | 1 | 3,5 | 94,84X3,53 |
| K35-092 | 92 | 107,1 | 6,3 | 1,3 | 6 | 97,80X5,33 |
| K35-095 | 95 | 110,1 | 6,3 | 1,3 | 6 | 100,97 x 5 |
| K35-095/1 | 95 | 115,1 | 8,1 | 1,8 | 7,5 | 104,14X6,9 |
| K35-100 | 100 | 115,1 | 6,3 | 1,3 | 6 | 107,32 x 5 |
| K35-100/1 | 100 | 110,7 | 4,2 | 1 | 3,5 | 104,37x3,5 |
| K35-105 | 105 | 125,5 | 8,1 | 1,8 | 7,5 | 113,67X6,9 |
| K35-105/1 | 105 | 120,1 | 6,3 | 1,3 | 6 | 110,49X5,3 |
| K35-110 | 110 | 125,1 | 6,3 | 1,3 | 6 | 116,84 x 5 |
| K35-110/1 | 110 | 130,5 | 8,1 | 1,8 | 7,5 | 116,84X6,9 |
| K35-110/2 | 110 | 120,7 | 4,2 | 1 | 3,5 | 116,84X6,9 |
| K35-115 | 115 | 130,1 | 6,3 | 1,3 | 6 | 120,02 x 5 |
| K35-120 | 120 | 135,1 | 6,3 | 1,3 | 6 | 126,57 x 5 |
| K35-125 | 125 | 140,1 | 6,3 | 1,3 | 6 | 130,18 x 5 |
| K35-125/1 | 125 | 145,5 | 8,1 | 1,8 | 7,5 | 132,72X6,9 |
| K35-127 | 127 | 142.1 | 6.3 | 1.3 | 6 | 130,2x5,33 |
| K35-130 | 130 | 145,1 | 6,3 | 1,3 | 6 | 135,89 x 5 |
| K35-130/1 | 130 | 150,5 | 8,1 | 1,8 | 7,5 | 139,07X6,9 |
| K35-132 | 132 | 147,1 | 6,3 | 1,3 | 6 | 139,07X5,3 |
| K35-135 | 135 | 150,1 | 6,3 | 1,3 | 6 | 137,70 x 5 |
| K35-137 | 137 | 152,1 | 6,3 | 1,3 | 6 | 142,24X5,3 |
| K35-138 | 138 | 153,1 | 6,3 | 1,3 | 6 | 142,24X5,3 |
| K35-140 | 140 | 155,1 | 6,3 | 1,3 | 6 | 145,42 x 5 |
| K35-145 | 145 | 160,1 | 6,3 | 1,3 | 6 | 151,77X5,3 |
| K35-145/1 | 145 | 165,5 | 8,1 | 1,8 | 7,5 | 151,77X5,3 |
| K35-150 | 150 | 165,1 | 6,3 | 1,3 | 6 | 151,77 x 5 |
| K35-150/1 | 150 | 170,5 | 8,1 | 1,8 | 7,5 | 158,12X6,9 |
| K35-153 | 153 | 168,1 | 6,3 | 1,3 | 6 | 158,12X5,3 |
| K35-155 | 155 | 170,1 | 6,3 | 1,3 | 6 | 161,30X5,3 |
| K35-160 | 160 | 175,1 | 6,3 | 1,3 | 6 | 164,47 x 5 |
| K35-160/1 | 160 | 180,5 | 8,1 | 1,8 | 7,5 | 164,47x6,9 |
| K35-165 | 165 | 180,1 | 6,3 | 1,3 | 6 | 170,82x5,3 |
| K35-170 | 170 | 185,1 | 6,3 | 1,3 | 6 | 177,17x5,3 |
| K35-170/1 | 170 | 190,5 | 8,1 | 1,8 | 7,5 | 177,17x6,9 |
| K35-172/1 | 172 | 192,5 | 8,1 | 1,8 | 7,5 | 183,52X6,9 |
| K35-175 | 175 | 190,1 | 6,3 | 1,3 | 6 | 177,17x5,3 |
| K35-180 | 180 | 195,1 | 6,3 | 1,3 | 6 | 183,52x5,3 |
| K35-180/1 | 180 | 200,5 | 8,1 | 1,8 | 7,5 | 187,30X6,9 |
| K35-185 | 185 | 200,1 | 6,3 | 1,3 | 6 | 189,87x5,3 |
| K35-190 | 190 | 205,1 | 6,3 | 1,3 | 6 | 196,22x5,3 |
| K35-192 | 192 | 207,1 | 6,3 | 1,3 | 6 | 196,22x5,3 |
| K35-195 | 195 | 210,1 | 6,3 | 1,3 | 6 | 202,57x5,3 |
| K35-200 | 200 | 220,5 | 8,1 | 1,8 | 7,5 | 208,92x6,9 |
| K35-205 | 205 | 225,5 | 8,1 | 1,8 | 7,5 | 208,92X6,9 |
| K35-210 | 210 | 230,5 | 8,1 | 1,8 | 7,5 | 215,27x6,9 |
| K35-212 | 212 | 232,5 | 8,1 | 1,8 | 7,5 | 215,27X6,9 |
| K35-215 | 215 | 235,5 | 8,1 | 1,8 | 7,5 | 227,97x6,9 |
| K35-220 | 220 | 240,5 | 8,1 | 1,8 | 7,5 | 227,97x6,9 |
| K35-225 | 225 | 245,5 | 8,1 | 1,8 | 7,5 | 240,67x6,9 |
| K35-230 | 230 | 250,5 | 8,1 | 1,8 | 7,5 | 240,67x6,9 |
| K35-235 | 235 | 255,5 | 8,1 | 1,8 | 7,5 | 240,67x6,9 |
| K35-240 | 240 | 260,5 | 8,1 | 1,8 | 7,5 | 240,67x6,9 |
| K35-245 | 245 | 265,5 | 8,1 | 1,8 | 7,5 | 253,57x6,9 |
| K35-250 | 250 | 270,5 | 8,1 | 1,8 | 7,5 | 253,57x6,9 |
| K35-260 | 260 | 284 | 8,1 | 1,8 | 8 | 266,07x6,9 |
| K35-260/1 | 260 | 280,5 | 8,1 | 1,8 | 7,5 | 266,07x6,9 |
| K35-265 | 265 | 289 | 8,1 | 1,8 | 8 | 272,4X6,99 |
| K35-270 | 270 | 294 | 8,1 | 1,8 | 8 | 278,77x6,9 |
| K35-275 | 275 | 299 | 8,1 | 1,8 | 8 | 291,47x6,9 |
| K35-280 | 280 | 304 | 8,1 | 1,8 | 8 | 291,47x6,9 |
| K35-285 | 285 | 309 | 8,1 | 1,8 | 8 | 291,47x6,9 |
| K35-290 | 290 | 314 | 8,1 | 1,8 | 8 | 297,88x6,9 |
| K35-295 | 295 | 319 | 8,1 | 1,8 | 8 | 304,17x6,9 |
| K35-300 | 300 | 324 | 8,1 | 1,8 | 8 | 316,87x6,9 |
| K35-300/1 | 300 | 320,5 | 8,1 | 1,8 | 7,5 | 304,17x6,9 |
| K35-310 | 310 | 334 | 8,1 | 1,8 | 8 | 316,87x6,9 |
| K35-320 | 320 | 344 | 8,1 | 1,8 | 8 | 329,57x6,9 |
| K35-330 | 330 | 354 | 8,1 | 1,8 | 8 | 342,27x6,9 |
| K35-340 | 340 | 364 | 8,1 | 1,8 | 8 | 354,97x6,9 |
| K35-345 | 345 | 369 | 8,1 | 1,8 | 8 | 354,97x6,9 |
| K35-350 | 350 | 374 | 8,1 | 1,8 | 8 | 354,9x6,99 |
| K35-360 | 360 | 384 | 8,1 | 1,8 | 8 | 367,67x6,9 |
| K35-370 | 370 | 394 | 8,1 | 1,8 | 8 | 380,37x6,9 |
| K35-380 | 380 | 404 | 8,1 | 1,8 | 8 | 393,07x6,9 |
| K35-390 | 390 | 414 | 8,1 | 1,8 | 8 | 405,26x6,9 |
| K35-400 | 400 | 424 | 8,1 | 1,8 | 8 | 417,96x6,9 |
| K35-405 | 405 | 429 | 8,1 | 1,8 | 8 | 417,96x6,9 |
| K35-410 | 410 | 434 | 8,1 | 1,8 | 8 | 417,96X6,9 |
| K35-420 | 420 | 444 | 8,1 | 1,8 | 8 | 430,66x6,9 |
| K35-430 | 430 | 454 | 8,1 | 1,8 | 8 | 443,36x6,9 |
| K35-440 | 440 | 464 | 8.1 | 1.8 | 8 | 443,36x6,9 |
| K35-450 | 450 | 474 | 8,1 | 1,8 | 8 | 468,76x6,9 |
| K35-460 | 460 | 484 | 8,1 | 1,8 | 8 | 468,76x6,9 |
| K35-470 | 470 | 494 | 8,1 | 1,8 | 8 | 481,46x6,9 |
| K35-480 | 480 | 504 | 8,1 | 1,8 | 8 | 494,16x6,9 |
| K35-490 | 490 | 514 | 8,1 | 1,8 | 8 | 506,86x6,9 |
| K35-500 | 500 | 524 | 8,1 | 1,8 | 8 | 506,86x6,9 |
| K35-510 | 510 | 534 | 8,1 | 1,8 | 8 | 532,26x6,9 |
| K35-520 | 520 | 544 | 8,1 | 1,8 | 8 | 532,26x6,9 |
| K35-530 | 530 | 554 | 8,1 | 1,8 | 8 | 557,66x6,9 |
| K35-540 | 540 | 564 | 8.1 | 1.8 | 8 | 557,66x6,9 |
| K35-550 | 550 | 574 | 8,1 | 1,8 | 8 | 582,68x6,9 |
| K35-570 | 570 | 594 | 8,1 | 1,8 | 8 | 582,68x6,9 |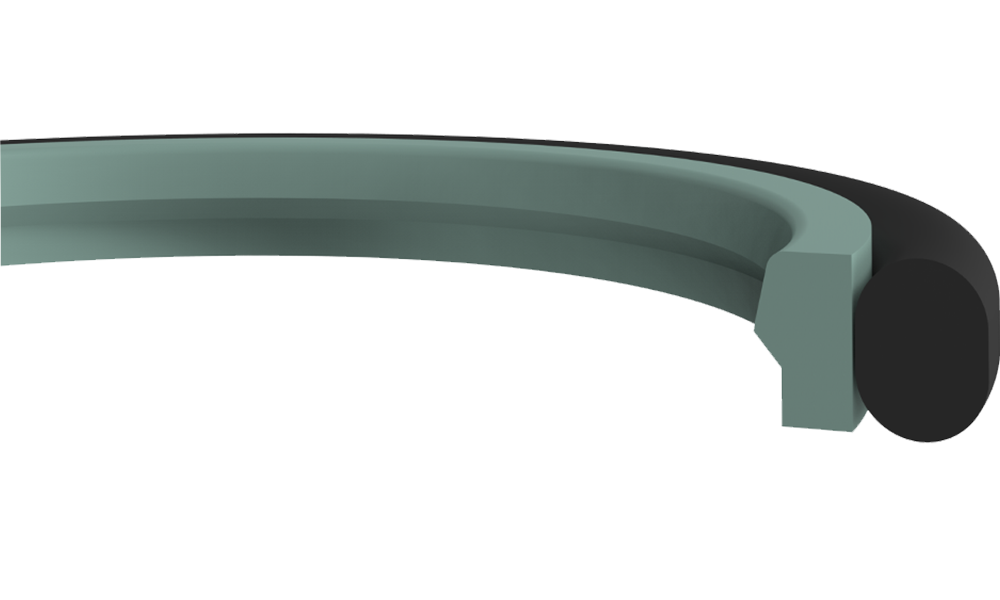 K35 is a two piece single acting rod seal which consists of one special mixture PTFE profile ring and an o-ring as energizing element.
PRODUCT ADVANTAGES
• Low friction , free of stick-slip
• Due to the special profile it can be used in pair or in front of the u-ring .
• Long service life
• High sliding speed
• Wide range of temperature and chemicals depending on the o-ring material
• Minimum static and dynamic friction coefficient for a minimum energy loss and operating temperature
• Simple groove design and low axial housing heights
APPLICATION
Injection moulding machines , fork-lift trucks , loading platforms , cranes , agricultural machinery , hydraulic breakers and servo cylinders.