K48 - Piston Seal

| KASTAŞ NO | D(H10) | d(h9) | B(+0.2/-0.0) | r | n |
| --- | --- | --- | --- | --- | --- |
| K48 100-82 | 100 | 82 | 22.5 | 0.4 | 10 |
| K48 100-85 | 100 | 85 | 13.5 | 0.2 | 8 |
| K48 110-095/1 | 110 | 95 | 12,5 | 0,2 | 8 |
| K48 110-95 | 110 | 95 | 16 | 0.2 | 8 |
| K48 120-105 | 120 | 105 | 16 | 0.2 | 8 |
| K48 125-110 | 125 | 110 | 15.8 | 0.2 | 8 |
| K48 130-105 | 130 | 105 | 30 | 0.8 | 13 |
| K48 135-120 | 135 | 120 | 16 | 0,2 | 8 |
| K48 140-123 | 140 | 123 | 16 | 0.4 | 10 |
| K48 140-125 | 140 | 125 | 16 | 0.2 | 8 |
| K48 160-145 | 160 | 145 | 16 | 0.2 | 8 |
| K48 170-150 | 170 | 150 | 16 | 0,2 | 12 |
| K48 180-160 | 180 | 160 | 16 | 0,2 | 12 |
| K48 186-166 | 186 | 166 | 16 | 0,2 | 12 |
| K48 200-180 | 200 | 180 | 20 | 0.4 | 14 |
| K48 220-195 | 220 | 195 | 25 | 0,8 | 14 |
| K48 250-225 | 250 | 225 | 25 | 0,8 | 14 |
| K48 63-50 | 63 | 50 | 14.5 | 0.2 | 8 |
| K48 80-66 | 80 | 66 | 17 | 0.2 | 8 |
| K48 90-75 | 90 | 75 | 13.5 | 0.2 | 8 |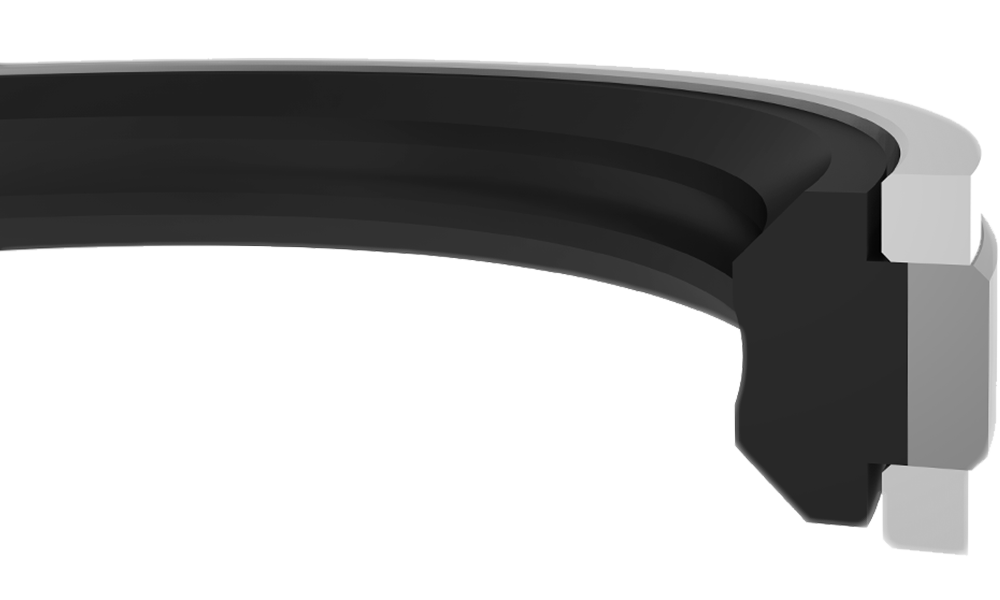 K48 is a four piece double acting heavy duty piston seal which consists of one TPE profile ring , one elastomeric nitrile rubber to preload sealing element and two thermoplastic back-up rings.

PRODUCT ADVANTAGES
•Simple groove design
•Superior performance in high and variable pressure
•Long service life
•Very good sealing performance at shock pressures
•High resistance to abrasion
•Ultimate resistance in water based fluids.

APPLICATION
Mining industryHeavy duty applications
NBR
80 SHORE A
NB8001
TPE
TP5501
POM
POM9901
OPERATING CONDITIONS
MEDIA
Mineral oils(DIN 51524)
HFA and HFB
TEMPERATURE
-30°C +105°C
+5°C +60°C
PRESSURE
≤700 Bar
≤700 Bar
SPEED
≤0.3 m/sec
≤0.3 m/sec

Not: The above data are maximum values and cannot be used at the same time.
SURFACE ROUGHNESS
Ra
Rmax
Sliding Surface ØD
≤0.4 μm
≤4 μm
Groove Base Ød
≤1.6 μm
≤10 μm
Groove Flanks B
≤3.2 μm
≤16 μm
Note: It is recommended to have 50% to 90% of the working surface material contact area value.

INSTALLATION
Easily assembled into one-piece piston because the back-up rings are been produced in split forms. It is very important that the assembly tools must be of soft material and have no sharp edges. Before installation the sealing element must be oiled with system oil.

NOTES
It is recommended to choose suitable material and quantity for guiding element regarding the purpose of application.
P≤350
0.45
350< P≤700
0.25
Note: The largest sealing gap value occurring on the non-pressurized side of the seal does have a vital importance for the function of the seal and in this respect it is quite important to use the S value lower than the above indicated numbers.