K501 - Piston Seal

| KAŞTAŞ NO | D(H9) | d(h9) | B(-0/+0.2) | r | n |
| --- | --- | --- | --- | --- | --- |
| K501-050 | 50 | 39 | 4.2 | 1 | 6 |
| K501-060 | 60 | 44.5 | 6.3 | 1.3 | 8 |
| K501-063 | 63 | 47,5 | 6,3 | 1,3 | 8 |
| K501-075 | 75 | 54 | 8,1 | 1,8 | 10,5 |
| K501-080 | 80 | 64,5 | 6,3 | 1,3 | 6 |
| K501-085 | 85 | 69,5 | 6,3 | 1,3 | 6 |
| K501-090 | 90 | 74,5 | 6,3 | 1,3 | 6 |
| K501-090/1 | 90 | 69 | 8.1 | 1.8 | 10.5 |
| K501-095 | 95 | 74 | 8,1 | 1,8 | 10,5 |
| K501-100 | 100 | 84,5 | 6,3 | 1,3 | 6 |
| K501-100/1 | 100 | 79 | 8.1 | 1.8 | 10.5 |
| K501-105 | 105 | 84 | 8,1 | 1,8 | 10,5 |
| K501-105/1 | 105 | 89,5 | 6,3 | 1,3 | 6 |
| K501-110 | 110 | 94,5 | 6,3 | 1,3 | 6 |
| K501-115 | 115 | 94 | 8,1 | 1,8 | 10,5 |
| K501-120 | 120 | 99 | 8,1 | 1,8 | 10,5 |
| K501-125 | 125 | 104 | 8,1 | 1,8 | 10,5 |
| K501-125/1 | 125 | 110 | 6,3 | 1,3 | 10,5 |
| K501-130 | 130 | 109 | 8,1 | 1,8 | 10,5 |
| K501-135 | 135 | 114 | 8,1 | 1,8 | 10,5 |
| K501-140 | 140 | 119 | 8,1 | 1,8 | 10,5 |
| K501-145 | 145 | 124 | 8,1 | 1,8 | 10,5 |
| K501-150 | 150 | 129 | 8,1 | 1,8 | 10,5 |
| K501-160 | 160 | 139 | 8,1 | 1,8 | 10,5 |
| K501-165 | 165 | 144 | 8,1 | 1,8 | 10,5 |
| K501-170 | 170 | 149 | 8,1 | 1,8 | 10,5 |
| K501-175 | 175 | 154 | 8,1 | 1,8 | 10,5 |
| K501-180 | 180 | 159 | 8,1 | 1,8 | 10,5 |
| K501-185 | 185 | 164 | 8,1 | 1,8 | 10,5 |
| K501-190 | 190 | 169 | 8,1 | 1,8 | 10,5 |
| K501-200 | 200 | 179 | 8,1 | 1,8 | 10,5 |
| K501-210 | 210 | 189 | 8,1 | 1,8 | 10,5 |
| K501-215 | 215 | 194 | 8,1 | 1,8 | 10,5 |
| K501-220 | 220 | 199 | 8,1 | 1,8 | 10,5 |
| K501-225 | 225 | 204 | 8,1 | 1,8 | 10,5 |
| K501-230 | 230 | 209 | 8,1 | 1,8 | 10,5 |
| K501-250 | 250 | 229 | 8,1 | 1,8 | 10,5 |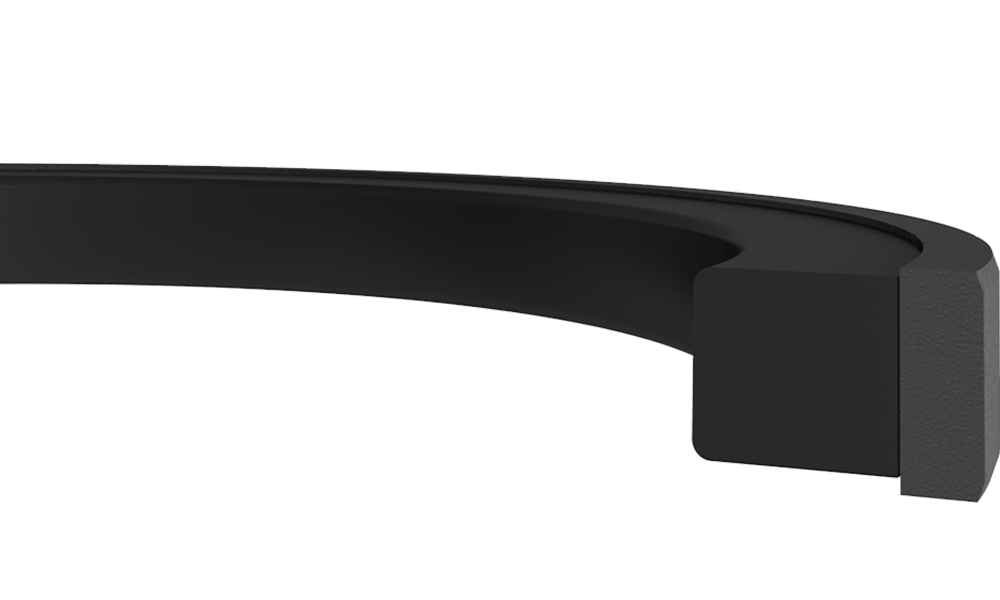 K501 is a two piece double acting piston seal consisting of a thermoplastic sealing element and one energizer elastomer ring.
ADVANTAGES
• Excellent sealing performance under static and dynamic applications
• Simple groove design
• Easy fit without installation tool
• Superior sealing performance at high and variable pressure levels
• Longer service life due to high abrasion resistance
• Excellent sealing at high surface roughness
• Outstanding resistance to pressure shocks
APPLICATION
Heavy duty cylinders and construction machinery.
NBR
70 SHORE A
NB7001
PA
PA9904
OPERATING CONDITIONS
MEDIA
Mineral oils (DIN 51524)
HFA and HFB
HFC
TEMPERATURE
-30°C and +105°C
+5°C and +60°C
-30°C and +60°C
PRESSURE
≤500 Bar
≤500 Bar
≤500 Bar
SPEED
≤1 m/sec
≤1 m/sec
≤1 m/sec
Note: The above data are maximum values and cannot be used at the same time.
SURFACE ROUGHNESS
Ra
Rmax
Sliding Surface Ød
≤0.4 μm
≤4.0μm
Groove Base ØD
≤1.6 μm
≤6.3μm
Groove Flanks S1
≤3.2 μm
≤16 μm
Note: It is recommended to have 50% to 90% of the working surface material contact area value.

INSTALLATION
Easy installation into one-piece piston head. Sealing elements must be pre-lubed with system oil before installation.

NOTES
It is recommended to use with minimum two piston guide rings in long-stroke cylinders , minimum one guide ring in short stroke and under low radial loads.
PERMISSIBLE SEALING GAP
B (mm)
Smax ( mm )
4.2
0.35
6.3
0.50
8
0.60
Note:All the above mentioned "S" values are maximum and it's vital to use lower values for system security.