K54 - Pneumatic Piston Seal

| KASTAŞ NO | D (H11) | d (h9) | B (-0/+0,2) | b | d1 (±0,1) |
| --- | --- | --- | --- | --- | --- |
| K54-012 | 12 | 7 | 2,5 | 2,2 | 11,6 |
| K54-016 | 16 | 9 | 2,5 | 2,2 | 13,6 |
| K54-020 | 20 | 13 | 2,5 | 2,2 | 19,6 |
| K54-025 | 25 | 18 | 2,5 | 2,2 | 24,6 |
| K54-028 | 28 | 19 | 3 | 2,7 | 27,6 |
| K54-030 | 30 | 21 | 3 | 2,7 | 29,6 |
| K54-032 | 32 | 23 | 3 | 2,7 | 31,6 |
| K54-035 | 35 | 26 | 3 | 2,7 | 34,5 |
| K54-040 | 40 | 31 | 3 | 2,7 | 39,5 |
| K54-040/1 | 40 | 27,5 | 3,5 | 3,2 | 39,5 |
| K54-045 | 45 | 36 | 3 | 2,7 | 44,5 |
| K54-050 | 50 | 41 | 3 | 2,7 | 49,5 |
| K54-060 | 60 | 44 | 4 | 3,7 | 59,5 |
| K54-060/1 | 60 | 48 | 3,4 | 3,1 | 59,5 |
| K54-063 | 63 | 51 | 4 | 3,7 | 62,5 |
| K54-070 | 70 | 58 | 4 | 3,7 | 69,5 |
| K54-080 | 80 | 68 | 4 | 3,7 | 79,5 |
| K54-100 | 100 | 88 | 4 | 3,7 | 99,4 |
| K54-125 | 125 | 110 | 5 | 4,7 | 124,4 |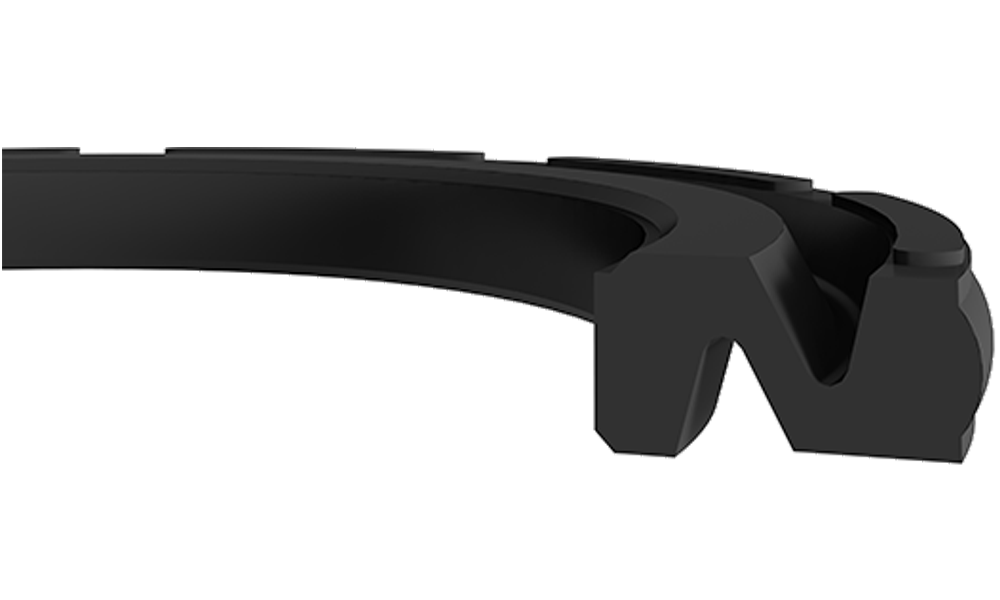 K54 is a double acting pneumatic piston seal designed to be used in low axial housing grooves.
PRODUCT ADVANTAGES
• Easy installation
• Wide range of dimensions
• Low friction
• Rounded sealing geometry and flexible centre part give good tightness
• Low axial housing heights
APPLICATION
Short stroke cylinder and valves.
| | | |
| --- | --- | --- |
| MATERIAL | | CODE |
| NBR | 70 SHORE A | NB7001 |
OPERATING CONDITIONS
MEDIA
Prepared , dried and de-oiled compressed air
TEMPERATURE
-30°C +105 °C
PRESSURE
≤12 Bar
SPEED
≤1.0 m/sn
Note: The above data are maximum values and cannot be used at the same time.
SURFACE ROUGHNESS
Rmax
Sliding Surface Ød
≤4 μm
Groove Base ØD
≤10 μm
Groove Flanks B
≤15 μm

INSTALLATION
It can be assembled into one piece piston by hand. It is very important that the assembly tools must be of soft material and have no sharp edges. Before installation the wiper must be oiled with system oil.

NOTES
Small axial housing make K54 to be used in short stroke cylinders. For special applications that require high temperatures , K54 can be produced in FKM material.