K55 - Pneumatic Piston Seal

| KASTAŞ NO | D (H11) | d (h10) | B | d1 (±0,2) | b | s | h |
| --- | --- | --- | --- | --- | --- | --- | --- |
| K55-016 | 16 | 4,5 | 4,4 | 6,9 | 3,4 | 2 | 2,3 |
| K55-020 | 20 | 6 | 5,5 | 9,4 | 4,4 | 2,5 | 2,8 |
| K55-025 | 25 | 7 | 6,4 | 10,8 | 5,4 | 3 | 3,5 |
| K55-032 | 32 | 8 | 7,5 | 12,5 | 6 | 3 | 3,5 |
| K55-040 | 40 | 8 | 8,5 | 17 | 7 | 4 | 4,5 |
| K55-050 | 50 | 10 | 10 | 26 | 8 | 4 | 4,5 |
| K55-063 | 63 | 12 | 10 | 26 | 8 | 4 | 4,5 |
| K55-080 | 80 | 16 | 11,4 | 30 | 9 | 5 | 5,5 |
| K55-100 | 100 | 20 | 12,9 | 35 | 10,9 | 6 | 6,5 |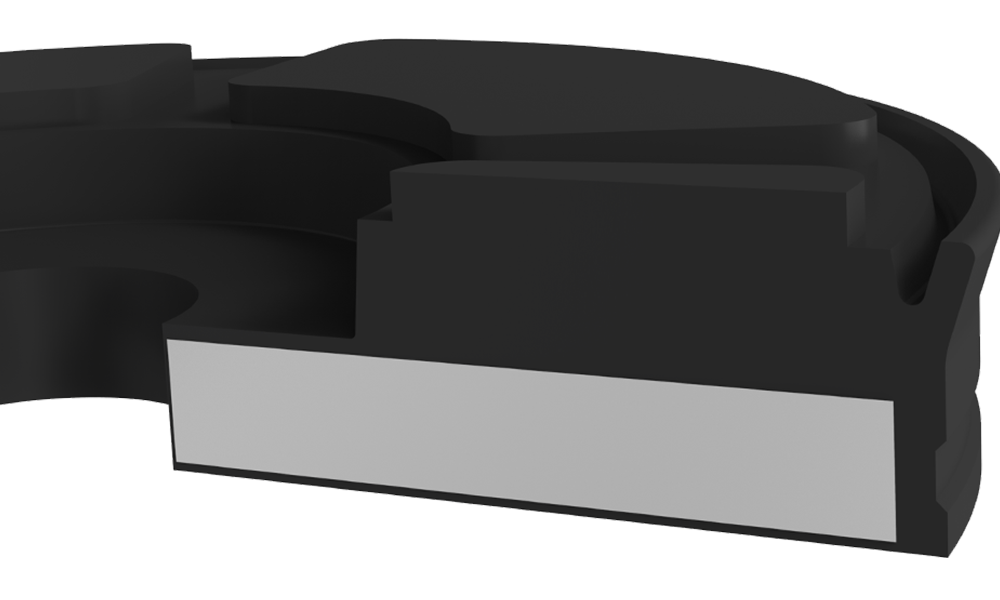 K55 is a single acting complete piston seal which consists of an aluminum plate vulcanized with elastomeric nitrile rubber using special production methods.
PRODUCT ADVANTAGES
• Ready to fit complete piston
• Reliable pressure application at the end of stroke by the venting passages.
• Low friction and smooth running due to sealing lip geometry
• Easily fastened to the piston rod without using additional sealing elements
• Economical sealing solution
APPLICATION
Standard pneumatic cylinders and after market.
| | | |
| --- | --- | --- |
| MATERIAL | | CODE |
| NBR | 70 SHORE A | NB7001 |
| ALUMINUM | | AL9901 |
OPERATING CONDITIONS
MEDIA
Prepared , dried and de-oiled compressed air
TEMPERATURE
-30°C +105 °C
PRESSURE
≤12 Bar
SPEED
≤1.0 m/sn
Note: The above data are maximum values and cannot be used at the same time.
SURFACE ROUGHNESS
Rmax
Sliding Surface Ød
≤4 μm

INSTALLATION
K55 is pushed onto the piston rod on the clamping flange towards the rod and fixed by fastening. The nut has to be secured. The sliding surface and the cylinder bore should be oiled with oil that must not go into the reaction with the sealing element during the installation process.

NOTES
For special applications that require high temperatures , K55 can be produced in FKM material.