K704 - Rod Seal

| KASTAŞ NO | d(f8) | D(H8) | B(+0.2/-0.0) | r |
| --- | --- | --- | --- | --- |
| K704-140 | 140 | 160 | 10 | 0,4 |
| K704-155 | 155 | 175 | 10 | 0.4 |
| K704-200 | 200 | 220 | 10 | 0,4 |
| K704-240 | 240 | 265 | 12,5 | 0,4 |
| K704-280 | 280 | 305 | 12.5 | 0.4 |
| K704-290 | 290 | 315 | 12,5 | 0,4 |
| K704-300 | 300 | 325 | 12.5 | 0.4 |
| K704-310 | 310 | 340 | 15 | 0,8 |
| K704-320 | 320 | 350 | 15 | 0,8 |
| K704-330 | 330 | 360 | 15 | 0.8 |
| K704-340 | 340 | 370 | 15 | 0,8 |
| K704-380 | 380 | 410 | 15 | 0,8 |
| K704-415 | 415 | 445 | 15 | 0.8 |
| K704-475 | 475 | 505 | 15 | 0.8 |
| K704-560 | 560 | 584 | 17,5 | 1,2 |
| K704-570 | 570 | 605 | 17.5 | 1.2 |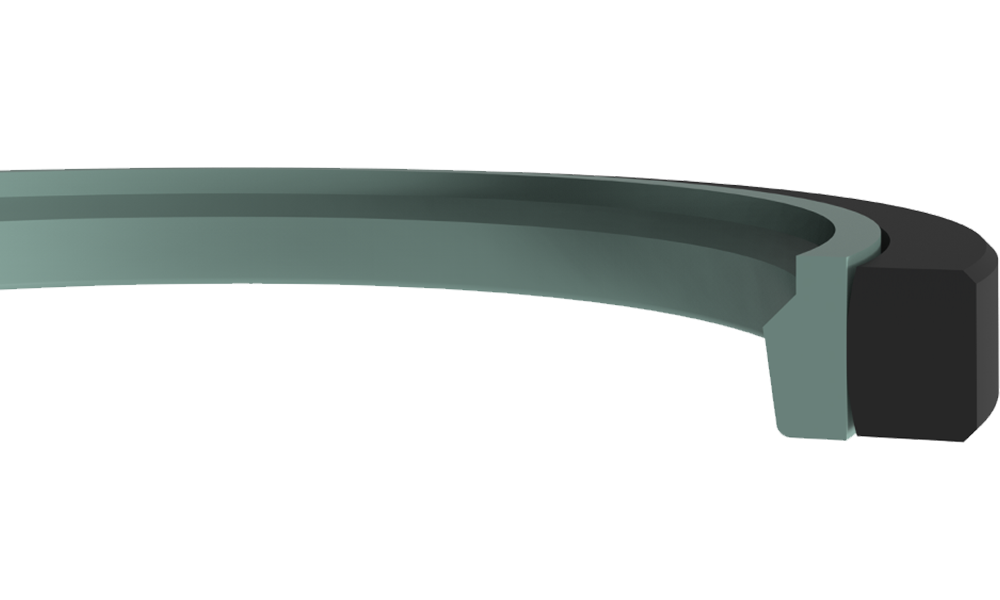 K704 is two piece single acting rod seal which consists of one special mixture PTFE profile ring and a NBR elastomer ring as energizing element.


PRODUCT ADVANTAGES
•Low friction , free of stick-slip
•Long service life
•High sliding speed
•Wide range of temperature and chemicals depending on the energizing material
•Minimum static and dynamic friction coefficient for minimum energy loss
•Simple groove design and low axial housing heights

APPLICATION
Steel industry , injection moulding machines , presses , large diameter cylinders
PTFE
PT6003
NBR
80 SHORE A
NB8001
OPERATION CONDITIONS
MEDIA
Mineral oils (DIN 51524)
TEMPERATURE
-30°C +105°C
PRESSURE
≤400 Bar
SPEED
≤5.0 m/sec

Note: The above data are maximum values and cannot be used at the same time.
SURFACE ROUGHNESS
Ra
Rmax
Sliding Surface Ød
≤0.2 μm
≤2.0μm
Groove Base ØD
≤1.6 μm
≤6.3μm
Groove Flanks B
≤3.2 μm
≤16 μm

Note: It is recommended to have 50% to 90% of the working surface material contact area value.

INSTALLATION
We recommend using assemly tool (See section; Hydraulic Sealing Elements General Installation Information). It is very important that the assembly tools must be of soft material and have no sharp edges. Before installation the sealing element must be oiled with system oil.


NOTES
For HFA HFB HFC used applications , special filled PTFE materials are recommended. Resistance in low temperature and high temperature applications can be improved by alternate elastomer compounds.


PERMISSIBLE SEALING GAP
B (mm)
Smax (mm)
x
150 Bar
250 Bar
400 Bar
10
0.60
0.50
0.40
12 , 5
0.65
0.55
0.45
15
0.70
0.60
0.50
17 , 5
0.75
0.65
0.55
20
0.80
0.70
0.55

Note: All the above mentioned "S" values are maximum and it's vital to use lower values for the system security.