K78 - Piston Guide Ring

| KASTAŞ NO | d(f8) dp(h8) | Db(H8) D(H9) | B(-0/+0.2) | b | d1(h9) | D1(H9) | k |
| --- | --- | --- | --- | --- | --- | --- | --- |
| K78-070 | 70 | 75 | 9,7 | 9,5 | 73,2 | 71,8 | 2,5 |
| K78-070/1 | 70 | 75 | 15 | 14,8 | 73,2 | 71,8 | 2,5 |
| K78-075 | 75 | 80 | 9,7 | 9,5 | 78,2 | 76,8 | 2,5 |
| K78-075/1 | 75 | 80 | 15 | 14,8 | 78,2 | 76,8 | 2,5 |
| K78-080 | 80 | 85 | 9,7 | 9,5 | 83,2 | 81,8 | 2,5 |
| K78-080/1 | 80 | 85 | 15 | 14,8 | 83,2 | 81,8 | 2,5 |
| K78-085 | 85 | 90 | 9,7 | 9,5 | 88,2 | 86,8 | 2,5 |
| K78-085/1 | 85 | 90 | 15 | 14,8 | 88,2 | 86,8 | 2,5 |
| K78-090 | 90 | 95 | 15 | 14,8 | 93,2 | 91,8 | 2,5 |
| K78-090/1 | 90 | 95 | 9,7 | 9,5 | 93,2 | 91,8 | 2,5 |
| K78-095 | 95 | 100 | 9,7 | 9,5 | 98,2 | 96,8 | 2,5 |
| K78-095/1 | 95 | 100 | 15 | 14,8 | 98,2 | 96,8 | 2,5 |
| K78-100/1 | 100 | 105 | 9,7 | 9,5 | 103,2 | 101,8 | 3,5 |
| K78-105 | 105 | 110 | 9,7 | 9,5 | 108,2 | 106,8 | 3,5 |
| K78-105/1 | 105 | 110 | 15 | 14,8 | 108,2 | 106,8 | 3,5 |
| K78-110 | 110 | 115 | 9,7 | 9,5 | 113,2 | 111,8 | 3,5 |
| K78-110/1 | 110 | 115 | 15 | 14,8 | 113,2 | 111,8 | 3,5 |
| K78-115 | 115 | 120 | 9,7 | 9,5 | 118,2 | 116,8 | 3,5 |
| K78-115/1 | 115 | 120 | 15 | 14,8 | 118,2 | 116,8 | 3,5 |
| K78-120 | 120 | 125 | 9,7 | 9,5 | 123,2 | 121,8 | 3,5 |
| K78-120/1 | 120 | 125 | 15 | 14,8 | 123,2 | 121,8 | 3,5 |
| K78-125 | 125 | 130 | 9,7 | 9,5 | 128,2 | 126,8 | 3,5 |
| K78-125/1 | 125 | 130 | 15 | 14,8 | 128,2 | 126,8 | 3,5 |
| K78-130 | 130 | 135 | 9,7 | 9,5 | 133,2 | 131,8 | 3,5 |
| K78-130/1 | 130 | 135 | 15 | 14,8 | 133,2 | 131,8 | 3,5 |
| K78-135 | 135 | 140 | 9,7 | 9,5 | 138,2 | 136,8 | 3,5 |
| K78-135/1 | 135 | 140 | 15 | 14,8 | 138,2 | 136,8 | 3,5 |
| K78-140 | 140 | 145 | 9,7 | 9,5 | 143,2 | 141,8 | 3,5 |
| K78-140/1 | 140 | 145 | 15 | 14,8 | 143,2 | 141,8 | 3,5 |
| K78-145 | 145 | 150 | 9,7 | 9,5 | 148,2 | 146,8 | 3,5 |
| K78-145/1 | 145 | 150 | 15 | 14,8 | 148,2 | 146,8 | 3,5 |
| K78-150 | 150 | 155 | 15 | 14,8 | 153,2 | 151,8 | 3,5 |
| K78-150/1 | 150 | 155 | 9,7 | 9,5 | 153,2 | 151,8 | 3,5 |
| K78-155 | 155 | 160 | 9,7 | 9,5 | 158,2 | 156,8 | 3,5 |
| K78-155/1 | 155 | 160 | 9,7 | 9,5 | 158,2 | 156,8 | 3,5 |
| K78-160/1 | 160 | 165 | 15 | 19,8 | 158,2 | 161,8 | 3,5 |
| K78-165 | 165 | 170 | 9,7 | 9,5 | 168,2 | 166,8 | 3,5 |
| K78-175 | 175 | 180 | 9,7 | 9,5 | 178,2 | 176,8 | 3,5 |
| K78-175/1 | 175 | 180 | 15 | 14,8 | 178,2 | 176,8 | 3,5 |
| K78-180 | 180 | 185 | 15 | 14,8 | 183,2 | 181,8 | 3,5 |
| K78-185 | 185 | 190 | 9,7 | 9,5 | 188,2 | 186,8 | 3,5 |
| K78-185/1 | 185 | 190 | 15 | 14,8 | 188,2 | 186,8 | 3,5 |
| K78-195 | 195 | 200 | 9,7 | 9,5 | 198,2 | 196,8 | 3,5 |
| K78-195/1 | 195 | 200 | 15 | 14,8 | 198,2 | 196,8 | 3,5 |
| K78-209 | 209 | 215 | 20 | 19,8 | 213,2 | 210,8 | 3,5 |
| K78-219 | 219 | 225 | 20 | 19,8 | 217,2 | 220,8 | 3,5 |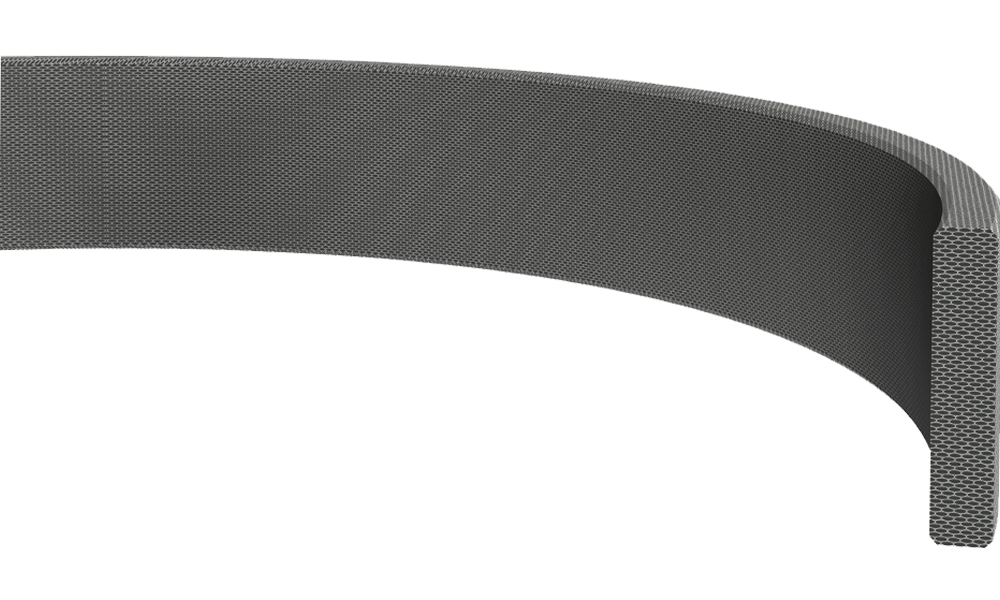 K 78 is a piston - rod guide ring designed to be used in heavy dutyhydraulic and pneumatic systems.
PRODUCT ADVANTAGES
• Able to work at high temperatures
• High dimension stability during the operating temperatures
• Easy assembly
• Wide range of dimensions
• Safely usage in heavy and medium duty applications
APPLICATION
Iron and steel industry , mobile hydraulics and heavy duty cylinders.
| | |
| --- | --- |
| MATERIAL | CODE |
| PHENOLIC ARAMID | PH6504 |
OPERATING CONDITIONS
MEDIA
Mineral oils(DIN 51524)
HFA and HFB
HFC
TEMPERATURE
-40°C +200°C
+5°C +60°C
-40°C +40°C
STATIC CONTACT PRESSURE
≤344 N/mm2
≤344 N/mm2
≤344 N/mm2
DYNAMIC CONTACT
PRESSURE
≤120 N/mm2
≤120 N/mm2
≤120 N/mm2
SPEED
≤1.0 m/sn
≤1.0 m/sn
≤1.0 m/sn
SURFACE ROUGHNESS
Ra
Rmax
Sliding Surface ØD-Ød
≤0.4 µm
≤3.2 μm
Groove Base ØDb-Ødp
≤1.6 µm
≤10 µm
Groove Flanks B
≤3.2 µm
≤16 µm

INSTALLATION
Easily assembled into the housing by hand. It is very important that the assembly tools must be of soft material and have no sharp edges. Before installation the wiper must be oiled with system oil.

NOTES
To avoid hydrodynamic pressure k interval is given. No force should be applied against the curvature of product upon assembly.