K81 - Back-up Ring

| KASTAŞ NO | d (f7)-dp (h9) | Db (H9)-D (H8) | a | B1 (-0/+0,2) | B2 (-0/+0,2) | Ød2 |
| --- | --- | --- | --- | --- | --- | --- |
| K81-006 | 6 | 12 | 2 | 6,5 | 8,5 | 3,53 |
| K81-012 | 12 | 16 | 1,2 | 4,6 | 5,8 | 2,62 |
| K81-020 | 20 | 25 | 1,3 | 5,2 | 6,5 | 3 |
| K81-020/1 | 20 | 30 | 1,3 | 9,1 | 10,4 | 6 |
| K81-022 | 22 | 28 | 1,5 | 6 | 7,5 | 3,53 |
| K81-025 | 25,4 | 30 | 1,9 | 5,8 | 7,7 | 3 |
| K81-025/1 | 25 | 30 | 1,3 | 5,2 | 6,5 | 3 |
| K81-026 | 26 | 30 | 2 | 5,4 | 7,4 | 2,62 |
| K81-027 | 27 | 32 | 1,3 | 5,2 | 6,5 | 3 |
| K81-028 | 28,2 | 34,6 | 1,3 | 6,5 | 7,8 | 4 |
| K81-030 | 30 | 35 | 1,3 | 5,2 | 6,5 | 3 |
| K81-034 | 34,68 | 39,68 | 1,75 | 5,65 | 7,4 | 3 |
| K81-035 | 35 | 40 | 1,3 | 5,2 | 6,5 | 3 |
| K81-036 | 36 | 40,5 | 1,25 | 5,15 | 6,4 | 3 |
| K81-038 | 38 | 43 | 1,3 | 5,2 | 6,5 | 3 |
| K81-040 | 40 | 45 | 1,3 | 5,2 | 6,5 | 3 |
| K81-040/1 | 40,4 | 45 | 1,9 | 5,8 | 7,7 | 3 |
| K81-040/2 | 40,7 | 45 | 1,3 | 4,7 | 6 | 2,62 |
| K81-041 | 41 | 45,5 | 1,25 | 5,15 | 6,4 | 3 |
| K81-043 | 43 | 48 | 1,3 | 5,2 | 6,5 | 3 |
| K81-043/1 | 43,7 | 50 | 1,9 | 7,1 | 9 | 4 |
| K81-044 | 44,3 | 50,5 | 1,3 | 6,5 | 7,8 | 4 |
| K81-045 | 45 | 50 | 1,3 | 5,2 | 6,5 | 3 |
| K81-045/3 | 45 | 49,5 | 1,5 | 5,4 | 6,9 | 3 |
| K81-045/4 | 45 | 55 | 1,5 | 9,3 | 10,8 | 6 |
| K81-046 | 46 | 50,5 | 1,25 | 5,15 | 6,4 | 3 |
| K81-047/1 | 47 | 51,5 | 1,5 | 5,4 | 6,9 | 3 |
| K81-048 | 48 | 54 | 1,5 | 6 | 7,5 | 3,53 |
| K81-049 | 49,3 | 55 | 1,3 | 5,8 | 7,1 | 3,53 |
| K81-050 | 50 | 55 | 1,3 | 5,2 | 6,5 | 3 |
| K81-050/2 | 50 | 60 | 1,7 | 9,1 | 10,8 | 5,7 |
| K81-052 | 52 | 60 | 1,9 | 8,4 | 10,3 | 5 |
| K81-053 | 53,7 | 60 | 1,9 | 7,1 | 9 | 4 |
| K81-053/1 | 53 | 63 | 1,7 | 9,1 | 10,8 | 5,7 |
| K81-053/3 | 53 | 59 | 1,5 | 6 | 7,5 | 3,53 |
| K81-055 | 55 | 63 | 1,9 | 8,4 | 10,3 | 5 |
| K81-055/4 | 55 | 65 | 1,9 | 9,7 | 11,6 | 6 |
| K81-055/5 | 55 | 60 | 1,3 | 5,2 | 6,5 | 3 |
| K81-056 | 56 | 60,5 | 1,3 | 5,2 | 6,5 | 3 |
| K81-057 | 57,6 | 63 | 2 | 6,5 | 8,5 | 3,53 |
| K81-057/1 | 57,7 | 63,7 | 1,05 | 5,55 | 6,6 | 3,53 |
| K81-057/2 | 57,4 | 63 | 1,4 | 5,9 | 7,3 | 3,53 |
| K81-058 | 58 | 63 | 1,3 | 5,2 | 6,5 | 3 |
| K81-058/1 | 58,5 | 63,5 | 1,3 | 5,2 | 6,5 | 3 |
| K81-058/2 | 58,7 | 65 | 1,9 | 7,1 | 9 | 4 |
| K81-059 | 59 | 63,5 | 1,3 | 5,2 | 6,5 | 3 |
| K81-062 | 62 | 70 | 1,9 | 8,4 | 10,3 | 5 |
| K81-062/1 | 62,2 | 68 | 1,3 | 5,8 | 7,1 | 3,53 |
| K81-062/2 | 62,15 | 71 | 1,7 | 8,6 | 10,3 | 5,33 |
| K81-063 | 63,6 | 70 | 1,4 | 6,6 | 8 | 4 |
| K81-064 | 64 | 73,3 | 1,5 | 8,9 | 10,4 | 5,7 |
| K81-064/1 | 64,4 | 70 | 1,4 | 5,9 | 7,3 | 3,53 |
| K81-064/2 | 64,5 | 71 | 1,4 | 6,6 | 8 | 4 |
| K81-065 | 65 | 70 | 1,3 | 5,2 | 6,5 | 3 |
| K81-065/1 | 65 | 75 | 1,7 | 9,1 | 10,8 | 5,7 |
| K81-065/2 | 65,6 | 75,5 | 1,25 | 9,05 | 10,3 | 6 |
| K81-066 | 66 | 70,5 | 1,3 | 5,2 | 6,5 | 3 |
| K81-066/1 | 66,5 | 71 | 1,9 | 5,8 | 7,7 | 3 |
| K81-069 | 69,8 | 75 | 1,3 | 5,2 | 6,5 | 3 |
| K81-069/1 | 69 | 75 | 1,5 | 6 | 7,5 | 3,53 |
| K81-069/2 | 69,4 | 75 | 1,4 | 5,9 | 7,3 | 3,53 |
| K81-070 | 70 | 75 | 1,3 | 5,2 | 6,5 | 3 |
| K81-070/1 | 70 | 80 | 1,7 | 9,1 | 10,8 | 5,7 |
| K81-070/2 | 70,7 | 80 | 1,7 | 9,1 | 10,8 | 5,7 |
| K81-072 | 72 | 80 | 1,9 | 8,4 | 10,3 | 5 |
| K81-072/1 | 72,15 | 81 | 1,7 | 8,6 | 10,3 | 5,33 |
| K81-075 | 75 | 80 | 1,3 | 5,2 | 6,5 | 3 |
| K81-075/1 | 76 | 80,5 | 1,25 | 5,15 | 6,4 | 3 |
| K81-075/2 | 75,6 | 82 | 1,9 | 7,1 | 9 | 4 |
| K81-075/3 | 75 | 85 | 1,9 | 9,3 | 11,2 | 5,7 |
| K81-077 | 77 | 83 | 1,5 | 6 | 7,5 | 3,53 |
| K81-079 | 79,8 | 89,1 | 1,5 | 8,9 | 10,4 | 5,7 |
| K81-079/1 | 79,4 | 85 | 1,3 | 5,8 | 7,1 | 3,53 |
| K81-080 | 80 | 85 | 1,3 | 5,2 | 6,5 | 3 |
| K81-082 | 82 | 90 | 1,9 | 8,4 | 10,3 | 5 |
| K81-082/1 | 82,15 | 91 | 1,7 | 8,6 | 10,3 | 5,33 |
| K81-084 | 84,3 | 90 | 1,3 | 5,8 | 7,1 | 3,53 |
| K81-085 | 85 | 90 | 1,3 | 5,2 | 6,5 | 3 |
| K81-085/1 | 85,2 | 90 | 1,4 | 5,3 | 6,7 | 3 |
| K81-090 | 90 | 95 | 1,3 | 5,2 | 6,5 | 3 |
| K81-090/1 | 90 | 100 | 1,7 | 9,1 | 10,8 | 5,7 |
| K81-091 | 91 | 96,4 | 1,3 | 5,8 | 7,1 | 3,53 |
| K81-092 | 92 | 100 | 1,9 | 8,4 | 10,3 | 5 |
| K81-095 | 95 | 100 | 1,3 | 5,2 | 6,5 | 3 |
| K81-095/1 | 95 | 105 | 1,9 | 9,7 | 11,6 | 6 |
| K81-095/2 | 95,7 | 105 | 1,7 | 9,1 | 10,8 | 5,7 |
| K81-100 | 100 | 110 | 1,7 | 9,1 | 10,8 | 5,7 |
| K81-100/1 | 100 | 108,2 | 1,9 | 8,4 | 10,3 | 5 |
| K81-100/2 | 100,6 | 110 | 1,7 | 9,1 | 10,8 | 5,7 |
| K81-100/3 | 100,2 | 105 | 1,4 | 5,3 | 6,7 | 3 |
| K81-102 | 102 | 110 | 1,9 | 8,4 | 10,3 | 5 |
| K81-105 | 105 | 110 | 1,3 | 5,2 | 6,5 | 3 |
| K81-105/1 | 105,7 | 115 | 1,7 | 9,1 | 10,8 | 5,7 |
| K81-107 | 107 | 115 | 1,9 | 8,4 | 10,3 | 5 |
| K81-108 | 108 | 114 | 1,5 | 6 | 7,5 | 3,53 |
| K81-109 | 109 | 118,3 | 1,9 | 9,27 | 11,14 | 5,7 |
| K81-110 | 110 | 115 | 1,3 | 5,2 | 6,5 | 3 |
| K81-110/1 | 110 | 120 | 1,7 | 9,1 | 10,8 | 5,7 |
| K81-110/2 | 110 | 120 | 1,9 | 9,3 | 11,2 | 5,7 |
| K81-112 | 112 | 120 | 1,9 | 8,4 | 10,3 | 5 |
| K81-114 | 114,8 | 125 | 2 | 9,8 | 11,8 | 6 |
| K81-115 | 115 | 125 | 1,7 | 9,1 | 10,8 | 5,7 |
| K81-115/1 | 115 | 124,3 | 1,5 | 8,9 | 10,4 | 5,7 |
| K81-115/2 | 115 | 125 | 1,9 | 9,3 | 11,2 | 5,7 |
| K81-117 | 117 | 125 | 1,9 | 8,4 | 10,3 | 5 |
| K81-118 | 118,2 | 127,5 | 1,5 | 8,9 | 10,4 | 5,7 |
| K81-120 | 120 | 125 | 1,3 | 5,2 | 6,5 | 3 |
| K81-120/1 | 120 | 130 | 1,7 | 9,1 | 10,8 | 5,7 |
| K81-120/3 | 120,7 | 130 | 1,7 | 9,1 | 10,8 | 5,7 |
| K81-122 | 122 | 130 | 1,9 | 8,4 | 10,3 | 5 |
| K81-125 | 125 | 135 | 1,9 | 9,3 | 11,2 | 5,7 |
| K81-130 | 130 | 140 | 1,7 | 9,1 | 10,8 | 5,7 |
| K81-130/1 | 130,7 | 140 | 1,9 | 9,3 | 11,2 | 5,7 |
| K81-130/2 | 130 | 142 | 2 | 11,1 | 13,1 | 6,99 |
| K81-135 | 135 | 140 | 1,25 | 5,15 | 6,4 | 3 |
| K81-137 | 137,8 | 149,8 | 2,45 | 11,55 | 14 | 6,99 |
| K81-138 | 138,4 | 150 | 2,5 | 11,6 | 14,1 | 6,99 |
| K81-140 | 140 | 150 | 1,7 | 9,1 | 10,8 | 5,7 |
| K81-145 | 145 | 160 | 2,1 | 13 | 15,1 | 8,4 |
| K81-145/1 | 145 | 155 | 1,9 | 9,7 | 11,6 | 6 |
| K81-150 | 150,7 | 160 | 1,9 | 9,3 | 11,2 | 5,7 |
| K81-150/1 | 150 | 160 | 1,7 | 9,1 | 10,8 | 5,7 |
| K81-151 | 151 | 160 | 1,9 | 8,8 | 10,7 | 5,33 |
| K81-153 | 153,3 | 165 | 2 | 11,1 | 13,1 | 6,99 |
| K81-155 | 155 | 170 | 2,1 | 13 | 15,1 | 8,4 |
| K81-155/1 | 155 | 165 | 1,7 | 9,1 | 10,8 | 5,7 |
| K81-155/2 | 155 | 165 | 1,9 | 9,3 | 11,2 | 5,7 |
| K81-156 | 156,12 | 170 | 2,5 | 12,9 | 15,4 | 8 |
| K81-158 | 158,4 | 170 | 2,5 | 11,6 | 14,1 | 6,99 |
| K81-161 | 161,8 | 170 | 1,9 | 8,4 | 10,3 | 5 |
| K81-165 | 165 | 180 | 2,1 | 13 | 15,1 | 8,4 |
| K81-170 | 170,7 | 180 | 1,9 | 9,3 | 11,2 | 5,7 |
| K81-175 | 175 | 190 | 2,1 | 13 | 15,1 | 8,4 |
| K81-181 | 181,8 | 190 | 1,9 | 8,4 | 10,3 | 5 |
| K81-188 | 188,4 | 200 | 2,5 | 11,6 | 14,1 | 6,99 |
| K81-190 | 190,7 | 200 | 1,9 | 9,3 | 11,2 | 5,7 |
| K81-192 | 192,6 | 202 | 1,9 | 9,3 | 11,2 | 5,7 |
| K81-198 | 198,4 | 210 | 2,5 | 11,6 | 14,1 | 6,99 |
| K81-201 | 201,8 | 210 | 1,9 | 8,4 | 10,3 | 5 |
| K81-205 | 205,7 | 215 | 1,9 | 9,3 | 11,2 | 5,7 |
| K81-210 | 210,7 | 220 | 1,9 | 9,3 | 11,2 | 5,7 |
| K81-220 | 220,7 | 230 | 1,9 | 9,3 | 11,2 | 5,7 |
| K81-220/1 | 220,3 | 232 | 2 | 11,1 | 13,1 | 6,99 |
| K81-228 | 228,4 | 240 | 2,5 | 11,6 | 14,1 | 6,99 |
| K81-235 | 235 | 250 | 2,1 | 13 | 15,1 | 8,4 |
| K81-240 | 240,7 | 250 | 1,9 | 9,3 | 11,2 | 5,7 |
| K81-241 | 241,8 | 250 | 1,9 | 8,4 | 10,3 | 5 |
| K81-245 | 245 | 260 | 2,1 | 13 | 15,1 | 8,4 |
| K81-245/1 | 245,7 | 255 | 1,9 | 9,3 | 11,2 | 5,7 |
| K81-260 | 260,7 | 270 | 1,9 | 9,3 | 11,2 | 5,7 |
| K81-266 | 266 | 280 | 2,5 | 13,4 | 15,9 | 8,4 |
| K81-290 | 290,7 | 300 | 1,9 | 9,3 | 11,2 | 5,7 |
| K81-295 | 295,7 | 305 | 1,9 | 9,3 | 11,2 | 5,7 |
| K81-316 | 316 | 330 | 2,5 | 13,4 | 15,9 | 8,4 |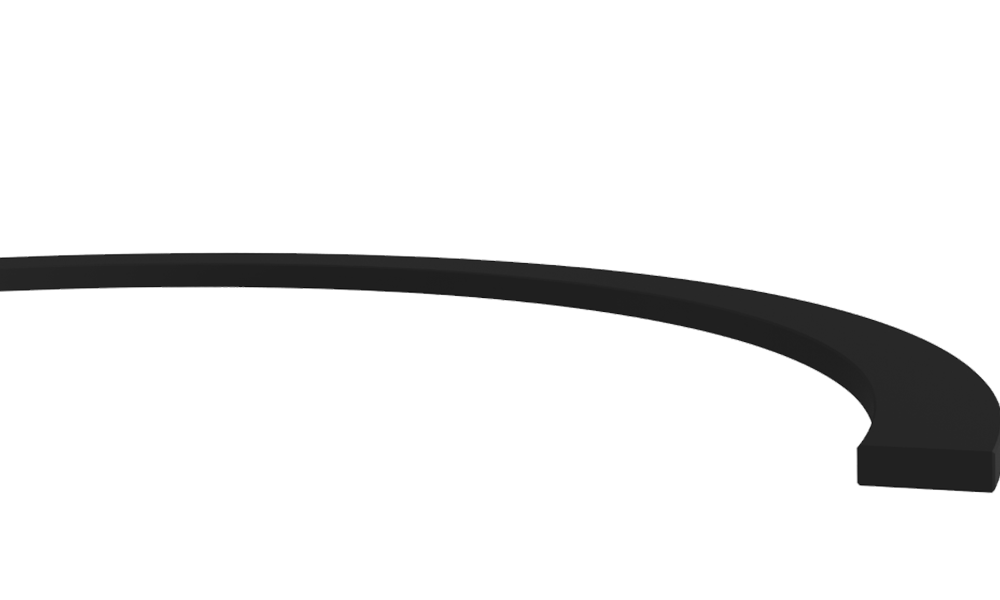 K81 is a back-up ring designed to reduce the permissible sealing gap of the O-rings both for static and dynamic applications.
PRODUCT ADVANTAGES
• Able to work in high pressures
• Easy assembly
• Able to work in hard conditions
• Wide range of dimensions
• Used for rod and piston
APPLICATION
All types of hydraulic cylinders , injection moulding machines , mining equipment , marine hydraulics , loading platforms , cranes and heavy duty applications.
OPERATING CONDITIONS
MEDIA
Mineral oils(DIN 51524)
HFA ve HFB
HFC
TEMPERATURE
-40°C +120°C
+5°C +60°C
-30°C +60°C
SPEED
≤1.0 m/sn
≤1.0 m/sn
≤1.0 m/sn

Note: The above data are maximum values and cannot be used at the same time.
SURFACE ROUGHNESS
Ra
Rmax
Sliding Surface Ød
≤0.3 µm
≤3 μm
Groove Base ØD
≤1.8 µm
≤10 µm
Groove Flanks B
≤3 µm
≤16 µm

INSTALLATION
Easily assembled into the housing by hand. K81 back-up ring is in non split form. In case of a difficulty during installation the back-up ring can be cut carefully with 30° angle and assembled afterwards. It is very important that the assembly tools must be of soft material and have no sharp edges. Before installation the back-up ring must be oiled with system oil.

NOTES
K81 back-up ring is safely used with 0.20 mm permissible sealing gap up to 500 bar. For special applications PTFE back-up ring is produced on special requests.