K96 - Rod Seal

| KASTAŞ NO | d (f8) | D (H11) | B (-0/+0,2) | b | n |
| --- | --- | --- | --- | --- | --- |
| K96-040 | 40 | 50 | 8 | 7 | 4,5 |
| K96-045 | 45 | 55 | 8 | 7 | 4,5 |
| K96-050 | 50 | 63 | 11 | 10 | 5 |
| K96-050/1 | 50 | 63 | 8 | 7 | 5 |
| K96-055 | 55 | 68 | 11 | 10 | 5 |
| K96-065 | 65 | 78 | 11 | 10 | 5 |
| K96-070 | 70 | 83 | 11 | 10 | 5 |
| K96-075 | 75 | 88 | 11 | 10 | 5 |
| K96-080 | 80 | 93 | 11 | 10 | 5 |
| K96-085 | 85 | 100 | 11 | 10 | 5,5 |
| K96-090 | 90 | 105 | 11 | 10 | 5,5 |
| K96-095 | 95 | 110 | 11,5 | 10,5 | 5,5 |
| K96-100 | 100 | 115 | 11 | 10 | 5,5 |
| K96-110 | 110 | 130 | 11 | 10 | 6 |
| K96-110/1 | 110 | 125 | 10 | 9 | 6 |
| K96-120 | 120 | 140 | 11 | 10 | 6 |
| K96-140 | 140 | 160 | 13 | 12 | 6 |
| K96-140/1 | 140 | 160 | 11 | 10 | 6 |
| K96-180 | 180 | 200 | 13 | 12 | 6 |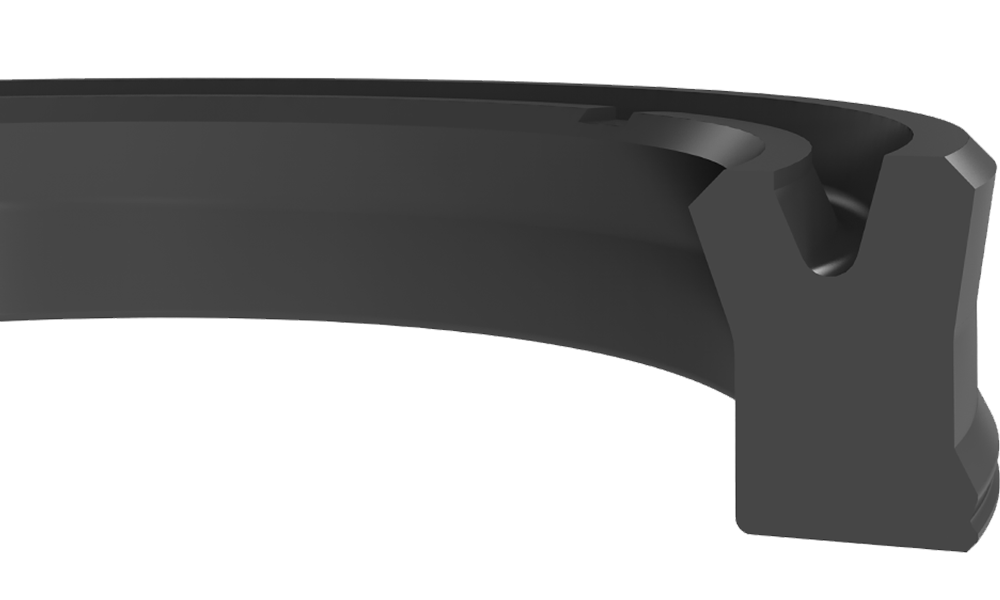 K96 is a single acting rod seal designed to have special geometry and inner lip shorter than the outer lip.
PRODUCT ADVANTAGES
• Superior static and dynamic sealing effect
• Easy assembly into closed grooves
• Able to work on hard conditions
• Very good static tightness due to the geometry
• Can go up to a pressure of 250 bar with using a back-up ring
APPLICATION
Construction machinery , fork-lift trucks and standard cylinders.
| | | |
| --- | --- | --- |
| MATERIAL | | CODE |
| NBR | 90 SHORE A | NB9001 |
MEDIA
Mineral oils(DIN 51524)
HFA and HFB
HFC
TEMPERATURE
-30°C +105°C
+5°C +60°C
-30°C +60°C
PRESSURE
≤150 Bar
≤150 Bar
≤150 Bar
SPEED
≤0.5 m/sn
≤0.5 m/sn
≤0.5 m/sn
Note: The above data are maximum values and cannot be used at the same time.
SURFACE ROUGHNESS
Ra
Rmax
Sliding Surface Ød
≤0.4 μm
≤3.2 μm
Groove Base ØD
≤1.8 μm
≤10 μm
Groove Flanks B
≤3 μm
≤16 μm
Note: It is recommended to have 50% to 90% of the working surface material contact area value

INSTALLATION
Easily assembled into closed grooves. It is very important that the assembly tools must be of soft material and have no sharp edges. Before installation the wiper must be oiled with system oil.

NOTES
K96 can be produced on requests in FKM material for special applications that requires high temperatures. It is generally used with 2mm PTFE back-up rings in construction machinery. The permissible sealing gap values of K96 rod seal is given in the below table.
Smax (mm)
t=(D-d)/2
50 Bar
100 Bar
150 Bar
t≤5
0.40
0.20
0.10
t>5
0.45
0.25
0.15
Note: The largest sealing gap value occurring on the non-pressurized side of the seal does have a vital importance for the function of the seal and in this respect it is quite important to use the S value lower than the above indicated numbers.